Jesse Q. Sutanto on her gripping new psychological thriller, I'm Not Done With You Yet
"It's stressful and I pray that I get to do it for as long as I am able to."
Jesse Q. Sutanto's new adult psychological thriller, I'm Not Done With You Yet, is officially here and we're obsessed. Fast paced and deliciously twisted, I'm Not Done With You Yet is the perfect read for anyone looking to lose themselves in a page-turning thriller this summer. To celebrate its release, we not only had the honour of chatting with Jesse all about I'm Not Done With You Yet, we've also got five copies to give away!
---
The premise – and writing – for I'm Not Done With You Yet is fantastic! How did you come up with the idea?
I had a small argument with my husband about tidying up, and I went and wrote a scene about it–the first chapter, where Ted and Jane had a fight about tidying up? That was inspired by my argument. Then I went and wrote a whole book around it, because everything I do, I do out of pettiness.
What drew you to the psychological thriller genre?
Ever since I read Gone Girl, psychological thrillers have been my favorite novels to read! I've always wanted to write one, but didn't have the guts until my writing bestie, Laurie Elizabeth Flynn, author of The Girls Are All So Nice Here, encouraged me into tackling it. Which is why the book is dedicated to her.
I'm Not Done With You Yet is fantastic because it's also bookish – do you enjoy reading bookish novels?
Yesss, bookish novels are the best novels to read! I love coming across characters who are as obsessed by books as I am, it's like finding a new friend. Except I don't want to be friends with anyone in this book.
I'm Not Done With You Yet draws on the toxicity of female friendship. Is this something you've ever had to navigate yourself & if so what advice would you give to a young female navigating female friendship?
Yes and no. I've had toxic friends, but none quite as toxic as Jane and Thalia, thank goodness. My advice would be to ask yourself how you feel after interacting with that specific friend. With toxic friends, I find that I come away from conversations feeling bad, or guilty, or angry, and after a while, it takes a toll on my mental health.
View this post on Instagram
Peak & Pit! What's the peak and pit of writing books?
Peak: My absolute favorite is when my agent gives me comments on my manuscript and I read through it again, but with dozens of comments along the lines of: "AHHH!" and "OMG I LOVE THISSS." It brings me so much enjoyment to experience my manuscripts through my agent's eyes.
The pit: The volatility of the publishing industry and having no idea what kind of deals you'll get next. Or maybe your book will flop so hard that you won't get another deal next (knock on wood!). It's stressful and I pray that I get to do it for as long as I am able to.
Where do you like to write? Do you have a dedicated space or does it vary?
I've trained myself now to write anywhere! At my dining table, or in a cafe, or in a car, or while waiting for my kids to be done with ballet lessons… I even do it by thumb typing on my phone when I find myself with time to spare.
What's life like living in Jakarta! Jakarta is a heaving metropolis with 22 million people, so it can be kind of overwhelming. It has amazing food, but it's also not a walking city because it's just way too hot, and there are very few sidewalks. So there are things I love about it and things I miss, like walking to places.
Growing up in Indonesia, studying in Oxford, and now living in Jakarta – have your travels impacted your writing experience in any way?
I think it has, simply because I've lived most of my life as a transplant, always feeling like I'm sort of on the periphery, looking in. Even now, I don't quite feel 100% Indonesian, and I think this distance has helped hone my observational skills and also really leveled up my imagination because sometimes I got so lonely I would rather live in my head than the real world. But it's also helped me develop more empathy, which I think is so important when tackling character motivations and depth.
Want more? Follow the instructions in the tweet below for your chance to win a copy of I'm Not Done With You Yet:
I'm Not Done With You Yet has officially arrived and to celebrate, we've got five copies to @thewritinghippo's gripping new thriller to give away! 😍

To enter to win:

💙FOLLOW @unitedbybks
💙RT this tweet

Open to UK residents. 🇬🇧 T&Cs: @HQstories https://t.co/vlnzwnhPkr

— United By Books (@unitedbybks) August 17, 2023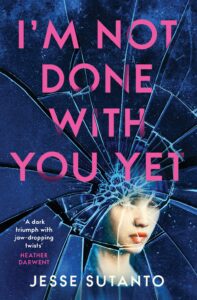 Get your copy of I'm Not Done With You Yet by Jesse Q. Sutanto here.
Terms and Conditions
1. No purchase necessary. A purchase will not increase your chances of winning.
2. This giveaway is open to residents of the United Kingdom only.
3. This giveaway opens Thursday, 17th August at 12:00 and closes on Thursday, 31st August at 21:00
4. Five (5) winners will be selected at random from all applicable entries. The prize consists of one (1) copy of I'm Not Done With You Yet. Prize has no cash value and no alternative prize is available.
5. Winners will be contacted via Twitter direct message by @unitedbypop after the giveaway closes. Winners must provide United By Pop and Harper Collins with their full name and mailing address to receive their prize. If winner fails to do so within 24 hours of being contacted, winner forfeits their prize and a new winner will be selected.
6. United By Pop is not responsible for prizes that are lost or damaged in the post. Prizes may take up to 90 days to arrive.
7. This giveaway is in no way sponsored by or affiliated with Instagram and/or Facebook.