Unpregnant authors discuss writing about abortion in YA
"Abortion just isn't something teens (or anyone) seem to talk about a lot."
The post below was kindly written by Jenni Hendriks & Ted Caplan, authors of Unpregnant.
"Oh my god, why would you write that?" 
That's a question you get a lot when you write a book about abortion. And it's for teens. And it's funny.
Which is what we did.
You might assume we were just trying to be shocking or provocative. Or, like some people on Twitter believe, trying to corrupt the next generation. But really, we had something different in mind.
For one, we believe it's vital that teens have access to stories that address taboo and/or sensitive topics. Most kids will inevitably face difficult situations in their lives before they reach adulthood. Maybe seeing themselves in a book will help them feel less isolated. But let's say you get off with an easy breezy childhood. Reading stories about lives wildly different than your own is a safe way for you to experience what it would be like to, for example, have an opioid addict for a father, or be a victim of white supremacy, or have your asshole boyfriend poke holes in a condom. (That last one is our book in case you didn't guess.) Hopefully, the act of reading about these people will make you a more empathetic person. Which, you know, the world could use right about now.
In our case, abortion just isn't something teens (or anyone) seem to talk about a lot. Not personally. But the reality is that one in four people with a uterus will have an abortion by the time they are forty-five. It's an incredibly common procedure. But still, there is a lot of shame surrounding it. And when people are afraid to talk about something, it's easier to pass laws restricting it. Which we are definitely experiencing here in America.
Okay, that explains why we wrote about a taboo topic. But why on earth would we try to make it funny?
Well, who doesn't want to read something funny. Really? Has anyone ever said 'I hate funny books'? So, that's one reason. But also, humor is one of the best ways to make a subject less scary. It's hard to be afraid of something once you've laughed at it. Imagine if that shark in Jaws had a silly hat. No one's getting nightmares from that, right? We were very careful in crafting Unpregnant to not treat the actual procedure in a cavalier manner. Instead, we focused the humor on the absurd obstacles our girls had to overcome to get an abortion (insane boyfriends, cow stampede, ferrets) in hopes of shining a light on how onerous and dangerous these restrictive laws are.
Ultimately, though, it's not just a book about abortion but about growing up, learning what real friendship is and that this one decision doesn't define the entirety of who you are. Our hope is that by the end, the reader is a little less nervous about the topic and can see that abortion isn't something that needs to be clouded in shame.
Or if not, at least maybe we made a few people laugh for a little while. What's wrong with that?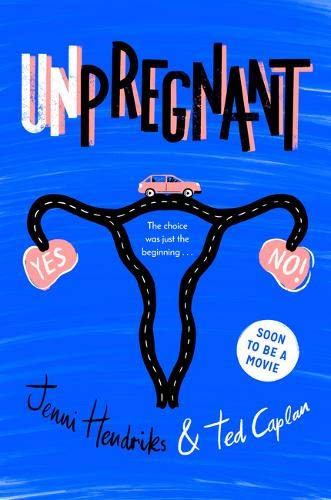 "Veronica is top of her class – and somehow she's found herself gazing in disbelief at a positive pregnancy test. Even worse, her ex-best friend and the high school's legendary malcontent, Bailey, is the only one there to help. In this warm and darkly funny road trip story, Veronica and Bailey drive a thousand miles to an out-of-state abortion clinic – rediscovering their friendship in the process."
Get your copy of UNPREGNANT by Jenni Hendriks & Ted Caplan here.