Jenn Bennett talks her heartwarming new YA novel, Chasing Lucky
"When I'm not thinking about anything else but the story in my head, the story that *I* want to write? That is when I do best."
It's no secret that we can't get enough of Jenn Bennett's work and her newest YA contemporary, Chasing Lucky, has only further fuelled our love for her books. Featuring a budding photographer, a rebellious outsider,  family owned bookstore, family secrets, one failed act of revenge and a touch of jail time, Chasing Lucky is the childhood best friends-to-enemies-to-lovers of our small town romance dreams and we were lucky enough to get to chat to Jenn all about it.
---
Which three words would you describe your wonderful new YA novel, Chasing Lucky?
Cozy. Angsty. Romantic.
Where and when did the inspiration for writing Chasing Lucky come about?
A couple of years ago, I was cringing over a teenage girl being shamed on social media after she'd done something that got her trending for all the wrong reasons. This made me think about public shame and mistakes we make when we're young (and not so young!), and how we face up to them and move on with our lives.
In Chasing Lucky, my character, Josie, makes a big mistake that lands her jail, along with the love interest of the story—her former childhood best friend, Lucky, who she hasn't seen in years. And after this incident, she has to face up to both what she did while unravelling what happened to their friendship. Lucky won't make that easy on her, as he's guarded and bitter.
View this post on Instagram
Over your writing career, you've created so many strong, empowering and honest heroines but is there one you relate to the most and if so why?
I don't know if they're strong so much as human. I hope they're human. And I do try to make them honest, but that's so much more difficult than you can imagine. There's not one I relate to the most because they are all a little me…and a little not. And I think readers may forget that the male love interests were created by me, too.
All those boys? They are me, as well. I am a little bit Porter, Jack, Lennon, and Daniel. And in this book, I am Lucky, too: I am slightly damaged by everything I've been through but hoping that my best friend still cares about me after all these years.
What was your favourite part about writing Chasing Lucky?
Writing the first kiss. (It's ALWAYS the best scene to write!)
How do you think Josie and Lucky would be dealing with these strange, COVID/quarantine times?
They are both pretty much loners, so that wouldn't be a problem. I would worry about Josie's family indie bookstore, and Lucky's family boat-repair business, which would both be struggling right now. Perhaps, in strange way, COVID may have brought them together faster, since their family businesses are across the street from each other.
Your contemporary novels are a staple for any YA readers shelf but last year you released your debut YA fantasy novel, The Lady Rouge. What was the biggest difference you found between writing the two genres?
I started my writing career in adult fantasy, so returning to it was welcome. And wonderful! I actually prefer to write historical and fantasy over contemporary. In my personal reading, I'm a fan of gothic and historical romance, and I love mysteries with a supernatural twist. If there's crumbling castle on a moor with a potential romance, I'm all in.
View this post on Instagram
Chasing Lucky is your fifth published YA contemporary. How has the way you approach writing and storytelling changed over the years?
Every time I write a book, my approach is different. But in general, I find that when I try to please too many people—when I try to write what certain readers want, or what I *think* my editor or publisher wants, or if I write to a current trend in the publishing market—that is when I fail. Spectacularly. When I'm not thinking about anything else but the story in my head, the story that *I* want to write? That is when I do best.
What advice would you give to aspiring YA contemporary authors?
Writing contemporary doesn't mean you need to include the names of every social media company or piece of tech, as those details will be dated in five years. Maybe sooner. Worse: some of those brands you namedrop might be embroiled in a huge scandal.
If you just say that you called your friend instead of saying you called your friend on your WhyPhone56, then you won't be embarrassed when your book finally gets published two years later, and there's already a WhyPhone58…or WhyPhones are off the market because they exploded and caused thousands of people to spontaneously combust.
I'm beyond excited for your 2021 release, Always Jane (it sounds fantastic!) Can you tell us a little more about it?
It's about a girl who goes on a lake vacation and falls for a boy who mistakenly believes she's the wealthy daughter of a reclusive California record producer…when she's actually the daughter of the record producer's chauffeur. Readers who like the woodsy California setting of Starry Eyes and the love interest of Alex, Approximately will probably find much to like in this. I'm currently working on the second draft, and I'm excited for readers to meet these characters!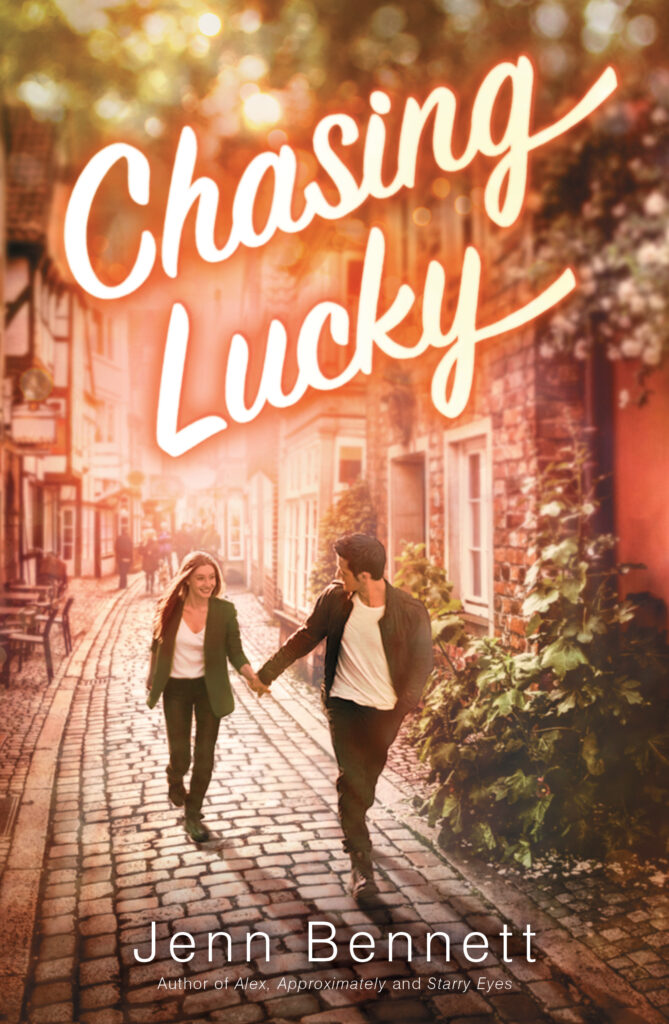 Get your copy of Chasing Lucky by Jenn Bennett in the UK & US.