This post was written by Sofía Lapuente and Jarrod Shusterman, authors of Retro.
Hello! Sofi and Jarrod here, nice to meet you 🙂 Our book Retro is a crazy, fun thriller with Riverdale vibes! Our characters take The Retro Challenge, which begs the question: can you survive a year without your smart technology? In our book, if you can, you'll win the scholarship of your dreams! And there's an exciting Retro themed challenge every week that pushes our characters to their limits.
Only problem?
It isn't long until contestants start going missing…
While writing this book music was such an inspiration for us–so we had this idea to make every chapter title the name of a song, that way you can listen while you read along. So we're going to take you on a little journey through some of these amazing Retro throwback tracks, and introduce you to our protagonist Luna! This is the soundtrack of her story.
---
GIRLS JUST WANT TO HAVE FUN – Cyndi Lauper
We meet Luna. She's seventeen years old and she's our fun, loyal, strong, Hispanic protagonist. When her good friend, Samantha, betrays her and jeopardizes the safety of her immigrant family, Luna posts an embarrassing video of Samantha online. And when it goes viral all hell breaks loose at school. Samantha is bullied really badly and Luna feels guilty for what happened. This was never her intention. Which raises the question, how could we have somehow forgotten that there are real people with beating hearts behind every profile and every screen?
LIVIN' LA VIDA LOCA — Ricky Martin
As a Hispanic immigrant it was so important to include Luna's heritage. Which meant highlighting her culture and featuring songs in Spanish! And let's be honest, Luna's life is totally about to get loca. Because she reaches out to the social media app where her friend got bullied online, and the social media company responds back, but by bringing the mysterious Retro Challenge to her high school!
FREEDOM! '90 — George Michael
Life is about to change. Can you survive without your smart devices? Without phones or laptops? And instead, live like you were in a Retro world? throwback music, vintage clothes, falling in love like you were living in a Retro movie. The possibilities are endless and the winners get a full ride scholarship to college. And Luna has the funnest, quirkiest new friends to do it with. All the rules of school totally change. The 'popular' kids are the ones who take the Retro Challenge. People who used to be invisible, that now finally feel seen and heard. She and her friends are set free.
DEPECHE MODE — Sweet Dreams (Are made of this) Eurythmics
As important as it was for this book to be a fun, It's really a thriller by nature. Full of lies, secrets, and betrayal. So there are all types of mysterious clues to follow along the story. Because now Luna is receiving threatening texts. Spray painted threats on her locker. Strange voices coming from the forest. Someone is sabotaging this challenge. Everyone is suddenly a suspect and Luna doesn't know who to trust. Things are getting a lot darker. And this is just the beginning.
View this post on Instagram
BAILAMOS — Enrique Iglesias
We are coauthors, but also a couple as well. This next song is a dedication to us, because just like how Axel, Retro's book boyfriend, falls in love with Luna—our lives changed forever when we met each other—when this American guy fell for this Spanish girl. We love to dance together, we love partying, so this next track had to be a fun, chili-pepper spicy, romantic track!
AINT NO MOUNTAIN HIGH ENOUGH – Marvin Gay & Tammi Terrell
Writing a thriller with Retro vibes was a difficult task as authors. It's almost like blending two genres together. Managing both of those tones was not easy, especially as the plot twists and tangles to a point of no return…Because one night there's a huge Retro party, and Luna's best friend is kidnapped. They'll have to find her before it's too late. There are bloodred markings on the trees. Dead animals in the forest. More threats that cast a shadow over this exciting challenge. Luna must figure out who is sabotaging the Retro Challenge, or maybe she'll disappear next…
SMELLS LIKE TEEN SPIRIT — Nirvana
So there is a huge twist towards the end of our story, which leaves our characters defeated, at this emotional low point. Now they have to take on all of their challenges, head on, and grow into the heroes of the story. Luna is desperate to find her best friend before something terrible happens to her. Our characters begin to burn through suspects, as the story twists and turns towards the truth. This song is all about total chaos, and that's exactly where our story is in the climax. They found out who is behind the kidnappings and now they are going to destroy everything and create a total revolution. It's time to tear down the system that imprisoned them and set the world on fire. It's time to get back their freedom.
HEAVEN IS A PLACE ON EARTH — Belinda Carlisle
This last song is all about nostalgic, beautiful, uplifting, kind of ethereal feelings. Our characters all have unique endings to their storylines, but they all have one thing in common—they'll all leave this adventure with some scars to heal and the assurance that they'll never fail in life because they have each other. Although Retro is a fun, thrilling rollercoaster, it's also about remembering that there is another person on the other side of every screen or profile, with feelings and a beating heart. And if you just open your eyes, and really look around, maybe you'll realize that heaven can be a place on earth.
Signing off,
-Jarrod Shusterman & Sofía Lapuente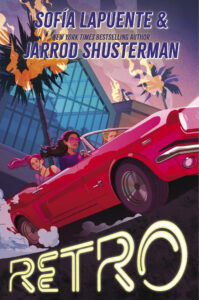 Get your copy of Retro by Sofía Lapuente and Jarrod Shusterman here.