Laura Steven on high school insecurities and The Love Hypothesis TV show
"Life is much better when you embrace who you really are; you'll attract the people who are meant to be in your life."
Asking the question "If you had a pill that would make you instantly 'attractive' to all, would you take it?" The Love Hypothesis, the latest YA contemporary novel by Laura Steven, brilliantly explores teen insecurities in a heartfelt, funny and often painfully relatable way.
Having adored reading The Love Hypothesis, we were very excited to get the chance to chat to Laura herself about the book, its inspirations and its future TV series.
---
What three words would you use to sum up The Love Hypothesis?
Funny, thought-provoking, bonkers!
The Love Hypothesis has such a brilliantly unique plot! Where did the inspiration for the story come from?
When I was a teen, I was not at all popular. I was awkward, insecure and moody, and bullied because of my appearance. I often found myself wishing that I could just magically be more attractive and more popular – the kind of magnetic person that people just LIKE. And I'm pretty sure I'm not the only one who's ever wished that! In this book, I actually gave my main character that "gift", then watched everything unravel for her as a result. It was incredibly cathartic!
What made you decide to write a main character with such a strong passion for science as Caro does?
The main character in my first two books, Izzy O'Neill, was so much fun to write. She was funny and crude and didn't give a damn about school. So I wanted a fresh challenge in Caro, rather than rehashing the same character. I was very academic in school and really cared about my grades – I used to write an essay before assembly every morning, and hand in my homework within hours of it being set. So with Caro, I really leaned into that aspect of my personality. All my protagonists are essentially caricatures of me, each with one of my traits exaggerated and explored. I'm a narcissist like that.
I can imagine you had to do a lot of scientific research when writing The Love Hypothesis? Was this something you enjoyed and did you face any big challenges whilst doing so?
I tried not to overwhelm myself with research, and only looked something up when I really needed to. Of course Caro's love of science shapes the plot, but the book isn't ABOUT science, if that makes sense. Because I didn't want to overload the reader with physics, I cherrypicked theories and ideas that I personally found interesting or exciting. I also had everything fact-checked by the lovely Lauren James, a UKYA author who's much, much smarter than me!
View this post on Instagram
Which character from your previous novels do you think Caro would get on with the most and do you think there are any she would dislike?
I actually think she and Izzy would clash horribly. Izzy would find her uptight and judgmental, while Caro would be hugely intimidated by Izzy's confidence. However, I can totally see Caro and Ajita getting on like a house on fire. They're both thoughtful and sweet, with similarly dry humour. I think they would bring out the best in each other. Caro would make Ajita want to try harder in school, while Ajita would teach Caro to relax and laugh at herself.
Upon reading The Love Hypothesis I asked a few people this same question and the answers were so interesting, which is, do you think your teen self would have made the same initial decision regarding the scientific discovery in the novel that Caro made in The Love Hypothesis? (Sorry for the awkward wording, I'm desperately trying not to spoil anything!)
I would 100% have made the same decisions as Caro at every single point! Which is obviously problematic. I think that's what I wanted to explore – how desperation and self-loathing can push you down some pretty dark paths.
Do you have any recommendations for readers looking for more YA contemporaries with characters who share Caro's passion for science?
The Loneliest Girl In The Universe by Lauren James, and My Heart And Other Black Holes by Jasmine Warga.
What is one message you hope readers will take away upon reading The Love Hypothesis?
Don't buy pills on the internet! And life is much better when you embrace who you really are; you'll attract the people who are meant to be in your life.
Do you have any future writing projects you're currently working on and if so, can you give us a hint as to what we can expect?
I can't share anything about my next novel yet, but I'm so excited to currently be working on the TV adaptation of The Love Hypothesis. It was recently optioned by the Emmy-winning team at Lime Pictures, and although we are in the very early stages, I have constant butterflies thinking about where this could go.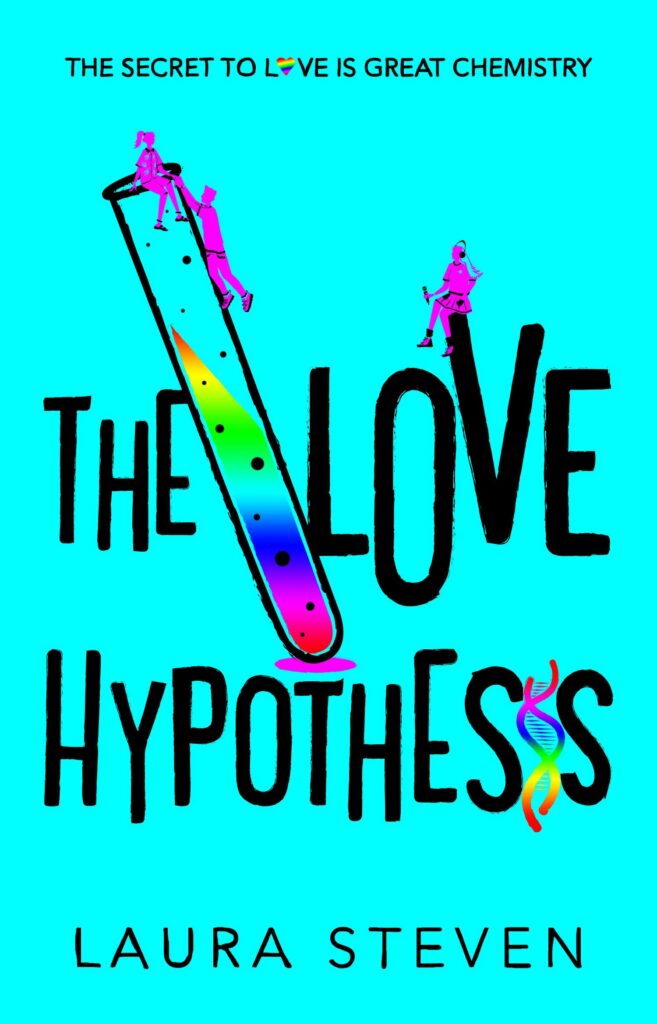 Get your copy of The Love Hypothesis today by Laura Steven in the UK & US.