Kiersten White talks The Guinevere Deception and writing retellings
"Magic, longing, Camelot."
With fifteen novels under her belt, including a Frankenstein retelling and an alternate history of Vald the Impaler, New York Times best seller, Kiersten White, is no stranger to the world of YA retellings. Now, in The Guinevere Deception, book one in her new YA fantasy trilogy, Kiersten is taking on the classic Arthurian legend, with the often forgotten Guinevere taking centre stage.
We sat down with Kiersten to talk all things The Guinevere Deception and why she can't get enough of writing retellings (and thank goodness for that!)
---
In three words, what can readers expect to see in your new novel, The Guinevere Deception?
Magic, longing, Camelot.
How and when did the idea of retelling an Arthurian legend come about?
I read a lot of Arthurian stories growing up and wrote papers about them in college, so the potential was always there. In 2017 I knew I wanted to write a fantasy trilogy next, but I hadn't settled on an idea. I was watching King Arthur: Legend of the Sword, a big silly mess of a movie that I quite enjoyed, but the same thing bothered me that always bothers me: there were only two women, one of whom didn't even have a name. I wondered where Guinevere was and why the filmmakers felt she was unnecessary. That was when my idea struck: an Arthurian retelling that was entirely about Guinevere.
Are there any moments or characters in The Guinevere Deception you're particularly excited about?
I really enjoyed building a magic system for Guinevere to use. So many of the Arthurian legends are divided between big elemental magic and justice decided on the edge of a sword, so to make magic something finite and personal—and, in this case, very feminine—was a fun challenge. Other than that, it is Camelot, so there's a lot of longing and slow-building romance and inevitable betrayal! There is one character whose reveal I think will surprise readers, and I loved writing about the moment when that mask comes off….
The Guinevere Deception isn't your first retelling; you've written a Frankenstein retelling and an alternate history of Vlad the Impaler. What is it about putting your own spin on beloved tales you find so enticing?
It's a way to have a conversation and engage with stories that I love but am also frustrated by or have questions about. For example, I adore Frankenstein, but the women in that novel are basically cardboard cutouts, and knowing what a genius Mary Shelley was, that frustrates me. Retellings are also a bit of a shortcut—because you're playing in a world that most readers will have a base level of familiarity with, you can both build on and subvert expectations in really interesting ways. And people who might not pick up an unknown book could see Guinevere on the cover, remember how much they loved Arthurian stories as a kid, and give it a shot.
Can you tell us a little about your process when writing a retelling?
It depends on the retelling. For the And I Darken trilogy, I spent months researching the history leading up to and during the events I was writing about. I made elaborate timelines and lists of historical figures, deciding what would work for a narrative while staying as faithful as possible to the actual history. For The Dark Descent of Elizabeth Frankenstein, I researched the life of Mary Shelley and did a deep dive into the text of Frankenstein, plotting out what Elizabeth's storyline could be during that same series of events. For The Guinevere Deception, since there is no one definitive Arthurian legend and no unified timeline or even cast of characters, I felt a lot freer to use the sort of archetypal elements—Arthur, Guinevere, Excalibur, Camelot, Merlin—and build my own story on top of them. In the end, though, I always have a reason I'm retelling a particular story, and everything I do serves to answer the question I'm asking.
Do you have any advice for aspiring authors wanting to try their hand at writing a retelling?
Choose a story you absolutely love, because you're going to spend a lot of time immersed in it—but also choose one missing something you've always wanted to see in it. There has to be a reason you're retelling that particular story. Boil it down to the essential things you love and hate about it, and build your retelling around those bones.
The Guinevere Deception is your fifteenth novel, which is ridiculously impressive! Within those fifteen, is there a specific character or scene that sticks out in your mind as one you particularly loved spending time writing?
I've loved all my books for different reasons but writing Lada Dracul from the And I Darken books was a really liberating experience. I gave myself permission to explore anger and ambition in a way that I had always felt wasn't allowed, and it changed me. In The Guinevere Deception, there's a scene in a tent after a tournament that I think is one of the steamiest I've ever written, even though all that happens is a kiss….
Are there any YA books you'd like to recommend to those of us left craving more retellings after reading and loving The Guinevere Deception?
If you love Arthurian stories, you can't go wrong with Once & Future by Amy Rose Capetta and Cori McCarthy. Gender-swapped Arthur in space! I really love Julie C. Dao's Forest of a Thousand Lanterns, a retelling of the Evil Queen from "Snow White." And (not YA but close enough) Spinning Silver by Naomi Novik is a brilliant retelling of "Rumpelstiltskin."
Thankfully, The Guinevere Deception is only the beginning of Guinevere's story. Can you give us any clues as to what readers can expect from book two in the Camelot Rising trilogy?
In book two, you'll get to travel outside of Camelot. There's a damsel in distress, an evil king, the reappearance of a certain fire-breathing friend, a clandestine meeting in the trees with a confusing foe, and the arrival of a shocking enemy: someone who threatens to unravel everything Guinevere is building, all while blushing prettily and wearing the most flattering pink dresses.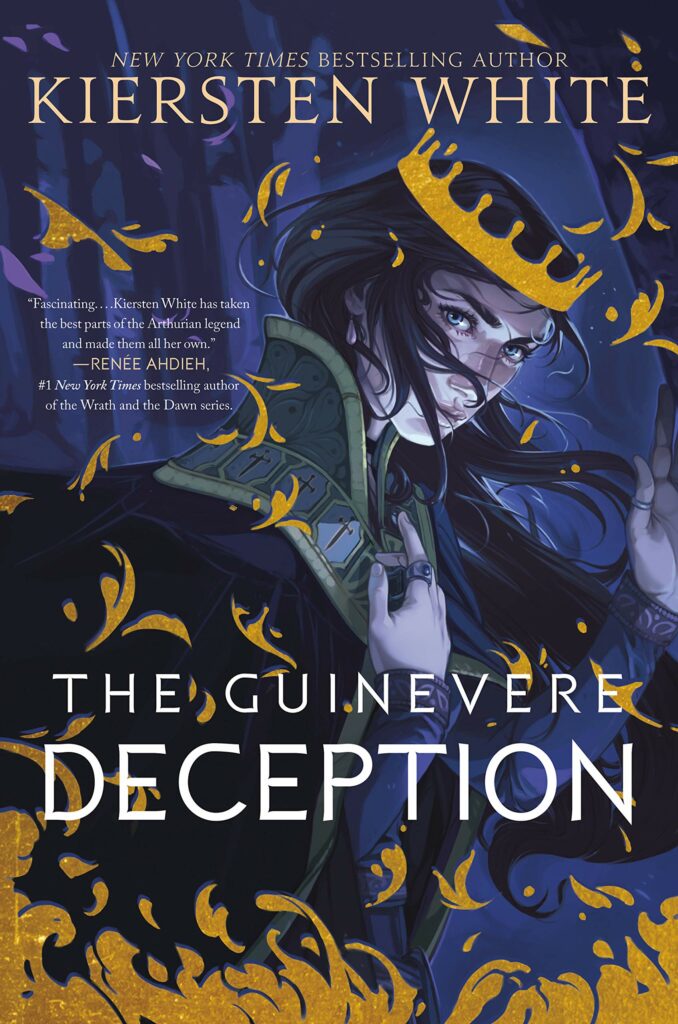 Order your copy of The Guinevere Deception by Kiersten White today in the UK and  US.