First published in 2015, Never Never is a joint work between bestselling authors Colleen Hoover and Tarryn Fisher. You might have seen the cover on the left before — that's the original cover art. The hands on the original cover are pretty iconic, especially as the original book was released as a 3-part series and the hands got eventually closer in each installation. This year, HQ is releasing this book in the UK and is giving the cover a major update. The new cover now matches the rest of the Colleen Hoover series with its block font, which is definitely important for book collectors who love, sorry need*, their book spines and covers to match.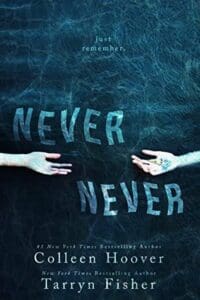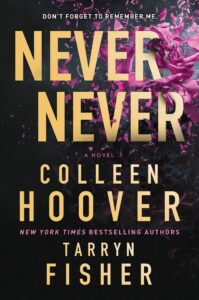 Never Never follows Charlie Wynwood and Silas Nash who have been best friends since they could walk. They've been in love since the age of fourteen. But as of this morning… they are complete strangers. Their first kiss, their first fight, the moment they fell in love… every memory has vanished. Now Charlie and Silas must work together to uncover the truth about what happened to them and why. But the more they learn about the couple they used to be… the more they question why they were ever together to begin with.
Forgetting is terrifying but remembering may be worse…
We are excited to share the first chapter of Never Never here with you. Read on to get hooked!
Never Never Colleen Hoover Tarryn Fisher Chapter 1

Never Never will be published by HQ Stories this 28th February.