Exciting new YA reads for June 2022
Jump into June with these new YA reads!
2022 has already gifted our bookshelves with countless new YA reads to fall in love with and despite the year having reached its halfway point, the fabulous new releases just keep coming. With stories of belonging, first love, wishes, alliances and more, these upcoming June titles are only further proof of the exciting new titles 2022 still has to offer.
---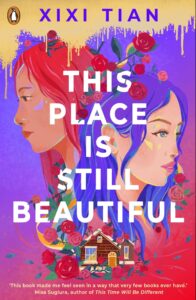 This Place is Still Beautiful by XiXi Tian (7th June)
Despite having had near-identical upbringings, sisters Annalie and Margaret agree on only one thing: that they have nothing in common. Nineteen-year-old Margaret is driven, ambitious, and keenly aware of social justice issues. She couldn't wait to leave their oppressive small-town home and take flight in New York. Meanwhile sweet, popular, seventeen-year-old Annalie couldn't think of anything worse – she loves their town, and feels safe coasting along in its confines.
That is, until she arrives home one day to find a gut-punching racial slur painted on their garage door.
Outraged, Margaret flies home, expecting to find her family up in arms. Instead, she's amazed to hear they want to forget about it. Their mom is worried about what it might stir up, and Annalie just wants to have a 'normal' summer – which Margaret is determined to ruin, apparently.
Back under each other's skins, things between Margaret and Annalie get steadily worse – and not even the distraction of first love (for Annalie), or lost love (for Margaret) can bring them together.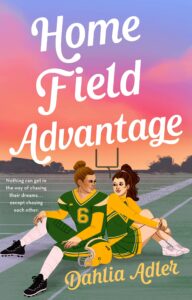 Home Field Advantage by Dahlia Adler (7th June)
Amber McCloud's dream is to become cheer captain at the end of the year, but it's an extra-tall order to be joyful and spirited when the quarterback of your team has been killed in a car accident. For both the team and the squad, watching Robbie get replaced by newcomer Jack Walsh is brutal. And when it turns out Jack is actually short for Jaclyn, all hell breaks loose.
The players refuse to be led by a girl, the cheerleaders are mad about the changes to their traditions, and the fact that Robbie's been not only replaced but outshined by a QB who wears a sports bra has more than a few Atherton Alligators in a rage. Amber tries for some semblance of unity, but it quickly becomes clear that she's only got a future on the squad and with her friends if she helps them take Jack down.
Just one problem: Amber and Jack are falling for each other, and if Amber can't stand up for Jack and figure out how to get everyone to fall in line, her dream may come at the cost of her heart.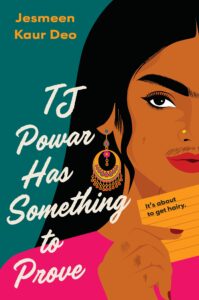 TJ Powar Has Something to Prove by Jesmeen Kaur Deo (7th June)
When TJ Powar—a pretty, popular debater—and her cousin Simran become the subject of a meme: with TJ being the "expectation" of dating an Indian girl and her Sikh cousin who does not remove her body hair being the "reality"—TJ decides to take a stand.
She ditches her razors, cancels her waxing appointments, and sets a debate resolution for herself: "This House Believes That TJ Powar can be her hairy self, and still be beautiful." Only, as she sets about proving her point, she starts to seriously doubt anyone could care about her just the way she is—even when the infuriating boy from a rival debate team seems determined to prove otherwise.
As her carefully crafted sense of self begins to crumble, TJ realizes that winning this debate may cost her far more than the space between her eyebrows. And that the hardest judge to convince of her arguments might just be herself.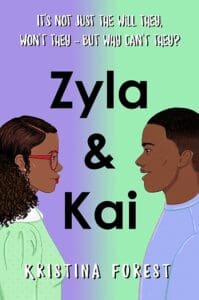 Zyla & Kai by Kristina Forest (7th June)
While on a school trip to the Poconos Mountains (in the middle of a storm) high school seniors, Zyla Matthews and Kai Johnson, run away together leaving their friends and family confused. As far as everyone knows, Zyla and Kai have been broken up for months. And honestly? Their break up hadn't surprised anyone. Zyla and Kai met while working together at an amusement park the previous summer, and they couldn't have been more different.
Zyla was a cynic about love. She'd witnessed the dissolution of her parents' marriage early in life, and it left an indelible impression. Her only aim was graduating and going to fashion school abroad. Until she met Kai.
Kai was a serial monogamist and a hopeless romantic. He'd put a temporary pause on his dating life before senior year to focus on school and getting into his dream HBCU. Until he met Zyla.
Alternating between the past and present, we see the love story unfold from Zyla and Kai's perspectives: how they first became the unlikeliest of friends over the summer, how they fell in love during the school year, and why they ultimately broke up… Or did they?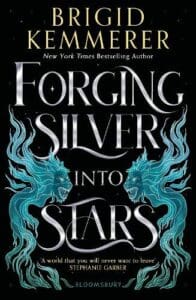 Forging Silver into Stars by Brigid Kemmerer (7th June)
Magic has been banished in the land of Syhl Shallow for as long as best friends Jax and Callyn can remember. They once loved the stories of the powerful magesmiths and mythical scravers who could conjure fire or control ice, but now they've learned that magic only leads to danger: magic is what killed Callyn's parents, leaving her alone to raise her younger sister. Magic never helped Jax, whose leg was crushed in an accident that his father has been punishing him for ever since. Magic won't save either of them when the tax collector comes calling, threatening to take their homes if they can't pay what they owe.
Meanwhile, Jax and Callyn are astonished to learn magic has returned to Syhl Shallow — in the form of a magesmith who's now married to their queen. Now, the people of Syhl Shallow are expected to allow dangerous magic in their midst, and no one is happy about it.
When a stranger rides into town offering Jax and Callyn silver in exchange for holding secret messages for an anti-magic faction, the choice is obvious — even if it means they may be aiding in a plot to destroy their new king. It's a risk they're both willing to take. That is, until another visitor arrives: handsome Lord Tycho, the King's Courier, the man who's been tasked with discovering who's conspiring against the throne.
Suddenly, Jax and Callyn find themselves embroiled in a world of shifting alliances, dangerous flirtations, and ancient magic . . . where even the deepest loyalties will be tested.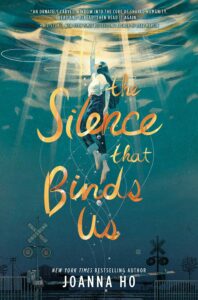 The Silence That Binds Us by Joanna Ho (14th June)
Maybelline Chen isn't the Chinese Taiwanese American daughter her mother expects her to be. May prefers hoodies over dresses and wants to become a writer. When asked, her mom can't come up with one specific reason for why she's proud of her only daughter. May's beloved brother, Danny, on the other hand, has just been admitted to Princeton. But Danny secretly struggles with depression, and when he dies by suicide, May's world is shattered.
In the aftermath, racist accusations are hurled against May's parents for putting too much "pressure" on him. May's father tells her to keep her head down. Instead, May challenges these ugly stereotypes through her writing. Yet the consequences of speaking out run much deeper than anyone could foresee. Who gets to tell our stories, and who gets silenced? It's up to May to take back the narrative.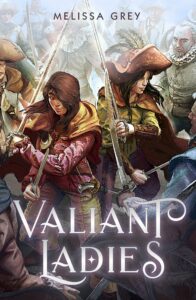 Valiant Ladies by Melissa Grey (14th June)
By day Eustaquia "Kiki" de Sonza and Ana Lezama de Urinza are proper young seventeeth century ladies. But when night falls, they trade in their silks and lace for swords and muskets, venturing out into the vibrant, bustling, crime-ridden streets of Potosí, in the Spanish Empire's Viceroyalty of Peru. They pass their time fighting, gambling, and falling desperately in love with one another.
Then, on the night Kiki's engagement to the Viceroy's son is announced, her older brother―heir to her family's fortune―is murdered. The girls immediately embark on a whirlwind investigation that takes them from the lowliest brothels of Potosí to the highest echelons of the Spanish aristocracy.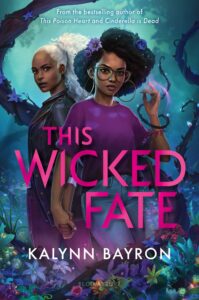 This Wicked Fate by Kalynn Bayron (21st June)
Briseis has one chance to save her mother, but she'll need to do the impossible: find the last fragment of the deadly Absyrtus Heart. If she is to locate the missing piece, she must turn to the blood relatives she's never known, learn about their secret powers, and take her place in their ancient lineage. Briseis is not the only one who wants the Heart, and her enemies will stop at nothing to fulfill their own ruthless plans. The fates tell of a truly dangerous journey, one that could end in more heartache, more death. Bolstered by the sisterhood of ancient magic, can Briseis harness her power to save the people she loves most?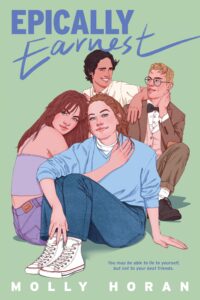 Epically Earnest by Molly Horan (21st June)
Jane Grady's claim to fame is that she was one first viral internet sensations, dubbed #bagbaby—discovered as a one-year-old in an oversized Gucci bag by her adopted father in a Poughkeepsie train station. Now in her senior year of high school, Jane is questioning whether she wants to look for her bio family due to a loving, but deeply misguided push from her best friend Algie, while also navigating an all-consuming crush on his cousin, the beautiful, way-out-of-her-league Gwen Fairfax.
And while Janey's never thought of herself as the earnest type, she needs to be honest with her parents, Algie, Gwen, but mostly herself if she wants to make her life truly epic. With a wink toward Oscar Wilde's beloved play, Epically Earnest explores the complexity of identity, the many forms family can take, and the importance of being . . . yourself.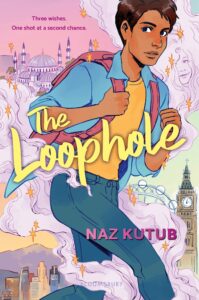 The Loophole by Naz Kutub (21st June)
Sy is a timid seventeen-year-old queer Indian-Muslim boy who placed all his bets at happiness on his boyfriend Farouk…who then left him to try and "fix the world." Sy was too chicken to take the plunge and travel with him and is now stuck in a dead-end coffee shop job. All Sy can do is wish for another chance…. Although he never expects his wish to be granted.
When a mysterious girl slams into (and slides down, streaks of make-up in her wake) the front entrance of the coffee shop, Sy helps her up and on her way. But then the girl offers him three wishes in exchange for his help, and after proving she can grant at least one wish with a funds transfer of a million dollars into Sy's pitifully struggling bank account, a whole new world of possibility opens up. Is she magic? Or just rich? And when his father kicks him out after he is outed, does Sy have the courage to make his way from L. A., across the Atlantic Ocean, to lands he'd never even dreamed he could ever visit? Led by his potentially otherworldly new friend, can he track down his missing Farouk for one last, desperate chance at rebuilding his life and re-finding love?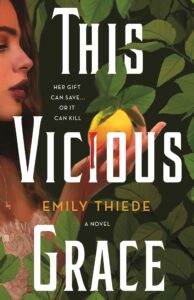 This Vicious Grace by Emily Thiede (28th June)
Three weddings. Three funerals. Alessa's gift from the gods is supposed to magnify a partner's magic, not kill every suitor she touches.
Now, with only weeks left until a hungry swarm of demons devours everything on her island home, Alessa is running out of time to find a partner and stop the invasion. When a powerful priest convinces the faithful that killing Alessa is the island's only hope, her own soldiers try to assassinate her.
Desperate to survive, Alessa hires Dante, a cynical outcast marked as a killer, to become her personal bodyguard. But as rebellion explodes outside the gates, Dante's dark secrets may be the biggest betrayal. He holds the key to her survival and her heart, but is he the one person who can help her master her gift or destroy her once and for all?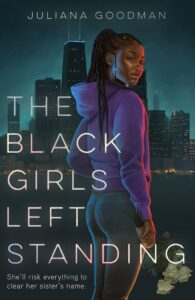 The Black Girls Left Standing by Juliana Goodman (28th June)
Sixteen-year-old Beau Willet has dreams of being an artist and one day leaving the Chicago projects she's grown up in. But after her older sister, Katia, is killed by an off-duty police officer, Beau knows she has to clear her sister's name by finding the only witness to the murder; Katia's no-good boyfriend, Jordan, who has gone missing. If she doesn't find him and tell the world what really happened, Katia's death will be ignored, like the deaths of so many other Black women who are wrongfully killed.
With the help of her friend, Sonnet, Beau sets up a Twitter account to gather anonymous tips. But the more that Beau finds out about her sister's death, the more danger she finds herself in. And with a new relationship developing with her childhood friend, Champion, and the struggle to keep her family together, Beau is soon in way over her head. How much is she willing to risk to clear her sister's name and make sure she's not forgotten?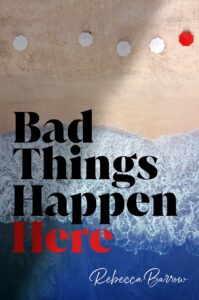 Bad Things Happen Here by Rebecca Barrow (28th June)
Luca Laine Thomas lives on a cursed island. To the outside world, Parris is an exclusive, idyllic escape accessible only to the one percent. There's nothing idyllic about its history, though, scattered with the unsolved deaths of young women—deaths Parris society happily ignores to maintain its polished veneer. But Luca can't ignore them. Not when the curse that took them killed her best friend, Polly, three years ago. Not when she feels the curse lingering nearby, ready to take her next.
When Luca comes home to police cars outside her house, she knows the curse has visited once again. Except this time, it came for Whitney, her sister. Luca decides to take the investigation of Whitney's death into her own hands. But as a shocking betrayal rocks Luca's world, the identity Whitney's killer isn't the only truth Luca seeks. And by the time she finds what she's looking for, Luca will come face to face with the curse she's been running from her whole life.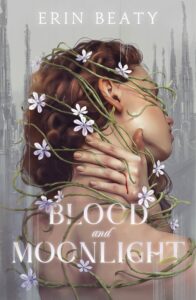 Blood and Moonlight by Erin Beaty (28th June)
Rising above the city of Collis is the holy Sanctum. And watching over its spires is Catrin, an orphan girl with unique skills—for she alone can spot the building's flaws in construction before they turn deadly.
But when Catrin witnesses a murderer escaping the scene of his crime, she's pulled into the web of a dangerous man who will definitely strike again. Assigned to capture the culprit is the mysterious, brilliant, and enigmatic Simon, whose insights into the mind of a killer are frighteningly accurate.
As the grisly crimes continue, Catrin finds herself caught between murderer and detective while hiding her own secret—a supernatural sight granted by the moon, destined to make her an outcast, and the only thing that might save her and those she loves from becoming the next victims…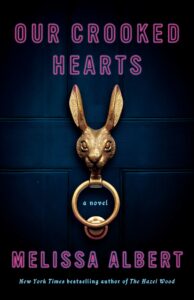 Our Crooked Hearts by Melissa Albert (28th June)
THE SUBURBS, RIGHT NOW . . .
Seventeen-year-old Ivy's summer break kicks off with an accident, a punishment, and a mystery: a stranger whose appearance in the middle of the road, in the middle of the night, heralds a string of increasingly unsettling events. As the days pass, Ivy grapples with eerie offerings, corroded memories, and a secret she's always known—that there's more to her mother than meets the eye.
THE CITY, BACK THEN . . .
Dana has always been perceptive. And the summer she turns sixteen, with the help of her best friend and an ambitious older girl, her gifts bloom into a heady fling with the supernatural, set in a city of magical possibilities and secret mystics. As the trio's aspirations darken, they find themselves speeding toward a violent breaking point.
Years after it began, Ivy and Dana's shared story will come down to a reckoning among a daughter, a mother, and the dark forces they never should've messed with.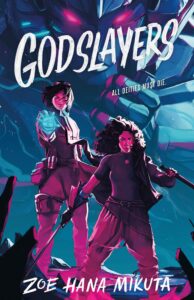 Godslayers by Zoe Hana Mikuta (28th June)
The Gearbreakers struck a devastating blow against Godolia on Heavensday, but the cost of victory has been steep. Months later, the few rebels who've managed to escape the tyrannical empire's bloody retribution have fled to the mountains, hunted by the last Zenith–Godolia's only surviving leader.
Eris has been held prisoner since the attack on the capital city, which almost killed her. And she begins to wish it had when she discovers Sona–the girl she loves, the girl she would tear down cities for–also survived, only to be captured and Corrupted by the Zenith. The cybernetic brainwashing that Sona has forcibly undergone now has her believing herself a loyal soldier for Godolia, and Eris' mortal enemy.
With the rebellion shattered and Godolia moving forward with an insidious plan to begin inducting Badlands children into a new Windup Pilot program, the odds have never been more stacked against the Gearbreakers. Their last hope for victory will depend on whether Eris and Sona can somehow find their way back to each other from opposite sides of a war…