Late 1980s fashions are back with a twist — big hair, high-waisted trousers, jean vests, Doc Martens. And though it was an era rife with homophobia, sexism and other small-mindedness that I'm glad and hopeful we're moving past, it was also an awesome time for pop music. Other great songs of the late 80s deserve to come back as hard as Madonna's "Material Girl" is trending on TikTok, so here's a list!
In my new book, FAMILY OF LIARS, I had a great time seeding in songs that the teenagers on my imaginary windswept private island would be listening to as they lay on the beach, a beat-up boom box running cassette tapes that put a soundtrack to their summer. These were the songs of my college years (yes, I'm old) and I'm stoked to share them with you.
Family of Liars is a dark, twisty story about how three sisters have their lives upended by the arrival of a boatload of cute boys who arrive, uninvited, and stay for the summer of 1987. It's a prequel to my bestseller We Were Liars and it reveals all kinds of Sinclair family secrets that shed light on the terrible events of first book.
The central characters are white, affluent and based in Massachusetts — so when writing, I picked songs that reflected the taste of their demographic back then. There was an amazing hip hop, funk and R&B scene in the late 80s that's only hinted at by this "mix tape," which skews to New Wave, rock, and pop. If you're curious, you can see my handwritten cassette cover and some more unpacking of the music in the novel in the WHSmith special edition of Family of Liars, and you can also find the list on USA Spotify and Apple Music.
https://music.apple.com/us/playlist/family-of-liars-playlist-from-the-novel-by-e-lockhart/pl.u-Z7XGHveeB
Here's the list — and a bit of what these songs meant to me and my friends when I first heard them, much like what they mean to the characters in Family of Liars.
xo E. Lockhart
---
NOTORIOUS by Duran Duran. They were the cutest band ever. OMG, so cute. This song got all the girls dancing.
KISS by Prince. It was so dirty and syncopated. We couldn't even believe it.
FAITH by George Michael. Pure happiness — a song for driving with the windows down.
WHERE'S THE PARTY? by Madonna. She had just bleached her hair platinum. We wanted to hate her, but we couldn't look away.
WISHING WELL by Terrance Trent Darby, aka Sananda Maitreya. This song was playing everywhere, all the time. We didn't know what it meant but it felt deep.
WEST END GIRLS by Pet Shop Boys. We were Americans and this song seemed so edgy and British. It inspired me to wear extra bright blue eyeliner.
DON'T YOU (FORGET ABOUT ME) by Simple Minds. This song made us nostalgic for our own young selves, our own summers, even as they were happening. It is also the most important song in Family of Liars — it comes up several times in the book.
WILD WILD LIFE by The Talking Heads. David Byrne was in his big suit mode and I adored him as a poet/prophet/rock star/strange angel. I still do.
FALL ON ME by R.E.M. R.E.M was on the college rock scene and hadn't made it to the stratosphere. Cool boys I flirted with would claim to have seen them in a tiny club they weren't old enough to have gotten into.
I STILL HAVEN'T FOUND WHAT I'M LOOKING FOR by U2. A song that people played to make themselves seem profound and deep and maybe worth a tumble.
View this post on Instagram
DON'T GET ME WRONG by The Pretenders. In an era when pretty, nasal sopranos were in style (Madonna, Belinda Carlyle, Susanna Hoffs), Hindi was a revelation.
IF SHE KNEW WHAT SHE WANTS by The Bangles. Lead singer Hoffs was the epitome of cool, but this song was so emotional and romantic, I was thrilled to see this side of her.
THORN IN MY SIDE by Eurythmics. Singer Annie Lennox was a kind of woman I'd never seen before — androgynous and powerful, even in a classic break-up song like this one.
IF YOU LEAVE by Orchestral Manoeuvres in the Dark. From the then-iconic now-outdated Molly Ringwald film Pretty in Pink, this one captured all the romance and heartbreak we seemed to all be always be in the middle of.
IF YOU LET ME STAY by Terrance Trent Darby, aka Sananda Maitraya. I was never tired of this album. What can I say? I'm still not.
NO ONE IS TO BLAME by Howard Jones. Oh, my heart got broken so many times. This was an ideal song when I needed to wallow, wallow, wallow in heartbreak.
LIFE IN A NORTHERN TOWN by The Dream Academy. A perfect beach song. It makes the sunshine glint off the water even brighter.
DON'T DREAM ITS OVER by Crowded House. An excellent make-out song.
IN YOUR EYES by Peter Gabriel. Immortalized in the movie Say Anything, I think this might be the most romantic pop song ever written. And we knew it, then.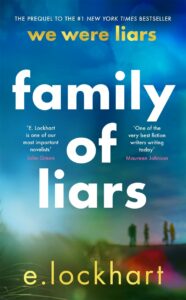 Get your copy of Family of Liars by E. Lockhart here.