David Arnold on his new YA romance novel, I Loved You in Another Life
"Crying has always been part of my process, I made peace with that long ago."
Following two teens whose souls, through the power of song, transcend time and space in order to reunited again and again, David Arnold's new YA novel, I Loved You in Another Life, is a poetic story of soulmates, music and the history of love. To celebrate its release, we had the chance to chat to David all about I Loved You in Another Life, upcoming projects, lyrics writing and more.
---
Hi David! It's lovely to have you on the site today to celebrate the release of your new YA romance, I Loved You in Another Life. For readers who may just be hearing about it, how would you best describe the book to them?
Thanks for having me! And I would describe the book as a speculative love story about two strangers who, just as their lives are falling apart, start hearing songs out of thin air. These songs eventually lead them to the same park on the same night, and as they begin to fall for each other, we begin to wonder if maybe it's not the first time these two souls have fallen in love.
Can you tell us a little about the inspirations behind the story?
Seeds are hard to identify sometimes, but with this book, I think there were two main starting points. The first thing I had was an idea—two strangers hearing the same songs out of thin air—but I didn't know what to do with this, so it sat on my computer for years. At some point, it occurred to me that the music might act as a map, and that it might lead my characters to each other, which felt like a good way into a love story for me. The second bit of inspiration came from my son. When he was six, he was obsessed with the movie E.T. to the point it was all we watched for months. During that time, I had an idea for a story set in the world of E.T.; I knew getting permission to write that book would be a long-shot, but I emailed my agent with the idea, who emailed our film team, who emailed Steven Spielberg, who said, "I don't think so," at which point, my family had ourselves a little celebration. I couldn't write the book, obviously, but I'd asked a question, and Steven Spielberg had answered, and in my house, that was magic beyond belief. Eventually, I realized the heart of what I needed to write wasn't in the world of E.T. at all, but about the bond that happens between two people who love the same movie together. At the heart of this book, there's a big brother/little brother relationship, very much based on my relationship with my kid when he was six, and our mutual love of E.T.
I Loved You in Another Life is an undoubtably incredibly emotional read, but what was your experience writing it like?
Crying has always been part of my process, I made peace with that long ago. Each book feels personal in different ways, and I won't speak for other authors, but it would seem I'm incapable of injecting my characters with hurt without feeling a bit of it myself. Not to say I've experienced or felt every literal thing my characters have experienced or felt, but that pulling from those places often costs something, and for someone already prone to tears (yours truly), that payment, more often than not, winds up being an emotional rollercoaster. Toss in a character based on my kid, and quite a few scenes grounded in my own experiences with panic attacks and therapy, and I was basically a blessed mess writing this thing.
View this post on Instagram
You both wrote and recorded an album to go alongside the book. What's it like creating two pieces of art, in two different mediums, that are so intwined with one another?
Long before books, for me, there was music. I worked as a freelance musician for a decade in Nashville, writing and recording songs in my attic for various projects, so this felt like a bit of a homecoming. And since I knew from the start that I wanted to write the songs my characters were hearing, I was able to sculpt the music as I went, let it evolve as the book evolved, so that the end result is (hopefully) a single, cohesive project. My music and my novel—my past life and this one—neither existing without the other.
What do you find to be the biggest difference between writing a novel and writing lyrics?
Lyrics are conceptual. Like poetry, the purpose is to move the reader, make them feel something, and maybe you're telling a story, but if so, it's more a snapshot of one. No need to fill in every blank. A novel may not give you everything, but it has to fill more blanks.
Since the book definitely had me asking myself this question, I would like to put it forth to you: do you believe in soulmates?
I have to say yes, given I've definitely found mine.
Finally, are you currently working on anything new and if so, is there anything you can share with us?
Yes! My first graphic novel will be out fall 2024. It's called Luminous Beings and is illustrated by the genius artist Jose Pimienta. I don't want to say too much about it, but I will leave you with two words: zombie squirrels.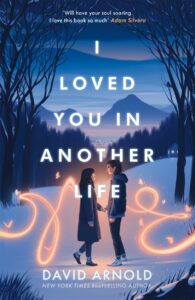 Get your copy of I Loved You in Another Life by David Arnold here.