Daniel Tawse on the fashion influences in their debut YA novel, All About Romance
"We can change how the world sees us with fashion."
This post was written by Daniel Tawse, author of All About Romance.
I think a lot of queer people find solace in fashion. I think that using fashion as a form of self-expression is something that queer people can relate to. We can change how the world sees us with fashion. In some cases, fashion is used to project a certain sexuality or gender. In others, it's used to hide it. Fashion is certainly a theme that runs with gay abandon through my latest young adult novel, All About Roman(ce), a story about a queer, fashion-forward teenager named Roman Bright, growing up in a small northern town. When conjuring up the character of Roman, I found myself exploring their potential fashion influences because I felt this would help me delve deeper into the character. Who are they trying to be? What are they trying to project? How do they want the world to see them? From researching the Golden Age of Hollywood and the screen sirens of the time, to exploring gender incongruence in fashion right up to today, the journey to uncovering Roman was such fun! Here, I'm going to reveal their three biggest fashion influences to give you a taste of this brilliant, colourful, creative, and all round fabulous character.
---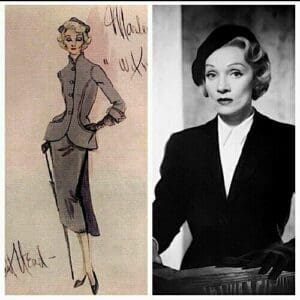 First off the catwalk is the one and only screen legend goddess herself, Marlene Dietrich. Roman is so beguiled by this statuesque legend that they name their favourite vintage rabbit skin cape after her. Iconic! Dietrich was a queer icon, and often referred to as 'androgynous' because of her preference of sharp tailoring at a time when women were expected to be all about the gowns, often wearing suits designed for her by legendary costume designer, Edith Head. If I were to pick one fashion look that connects her to Roman, I would choose the impeccably tailored suit she wore in the movie Witness for the Prosecution, as that powerful mix of the typically masculine and feminine aesthetic is sooo Roman!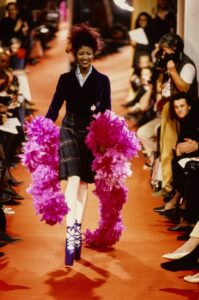 My next choice is Vivienne Westwood. From the punk rock look of the 70s, and the iconic pirate boots of the 80s, to today's resurgence of the pearl orb chokers, Vivienne Westwood designs have embodied gender fluidity and non-conformity in fashion for decades. When sending reference pictures to Lucie Corbasson-Guévenoux, the cover illustrator of All About Roman(ce), I sent a load of Westwood images; punk rockers, tartan kilts, platform shoes, pearl orb chokers, because for me, these images worked as the perfect reference points for how I saw Roman. I think the most 'Roman' Westwood moment has to be Naomi Campbell's fall from grace in '93. This is for two reasons. Firstly, the look; Campbell wore a sweater, plaid skirt, white tights and a pink voluminous feather boa, as well as these towering blue 'Super Elevated Gillie' platforms, fastened and tied around her ankles with ribbon as she wobbled and then toppled onto the runway. Gorgeous! Secondly, I have to choose this moment because of its iconic status. I can think of few fashions moments that are so generally well known. I even think this made the evening news at the time. This moment is iconic fashion at its finest, which is something Roman would definitely adore!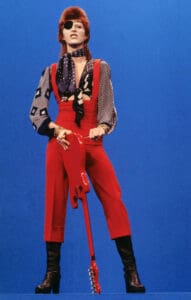 My third choice is one that, I think, embodies Roman the most: David Bowie's alter ego, Ziggy Stardust. Like Dietrich, a word often attached to Bowie was 'androgynous'. I remember hearing what this meant as a young person and being really intrigued. Growing up when I did, during Thatcher and Section 28, queer representation was terribly sparse. We had to seek it out. Seeing Ziggy Stardust for the first time was the first time I was really exposed to gender incongruence in fashion. Actually, in life! This wasn't a person presenting as the opposite gender, this was a person saying there is no gender conformity when it comes to fashion – everybody is able to play with every colour, fabric and style in the dressing up box, which is such a powerful message. An image of Ziggy Stardust was never too far from my mind when writing Roman's story. For me that mix of high fashion and costume, such as wearing a pirate eye patch, over exaggerated shoulders and lighting bolt makeup, is very Roman, and Ziggy Stardust's message about gender non-conformity in fashion is one that very much resonates with this character. And me.
I very much enjoyed using fashion throughout All About Roman(ce) to explore Roman's character, and what they desperately wanted. There's a moment in the book where they're standing in front of their wardrobe, feeling all kinds of deflated, and they can't decide how to dress, which is them saying they don't know who to be in that moment. I realised when writing this just how powerful fashion can be, especially for young queer people. Roman definitely uses fashion to project their identity, and by exploring this I was able to bring colour and fun to a story about a young queer person who doesn't fit in.
I really hope you love it!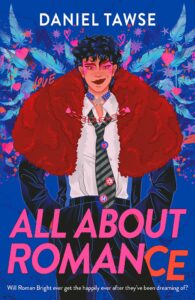 Get your copy of All About Roman(ce) by Daniel Tawse here.