Bethany Rutter on body positivity and her new YA novel, Melt My Heart
"People messaging me and saying 'I wish I had this when I was younger' is always the most wonderful thing to hear."
In celebration of the release of her gorgeously body positive and heartwarming new YA novel, Melt My Heart, we chatted with author, blogger, podcaster and fashion journalist, Bethany Rutter, all about body positivity and the importance of representing diverse bodies in YA.
---
For those who may not already be familiar with the premise of Melt My Heart, could you tell us a little bit about it?
It's about Lily Rose, who's just finished her A-levels and is trying to enjoy her last summer before university, but anxiety about leaving her family, her hometown and her best friend Cassie are getting in the way.
What was your biggest inspiration behind the story of Melt My Heart?
I think mostly it was inspired by the fear I felt before I went to university, which turned out to be completely legitimate!
Lily, the main character in Melt My Heart, goes on a wonderful journey of self acceptance in her identity as fat and bi. What was your favourite part about developing these parts of her character and did you come up against any unexpected challenges whilst doing so?
I think the challenge I always come up against is trying to balance the fact that these things can be quite anxiety-inducing with the fact that they're literally not at all the end of the world, if that makes sense?
View this post on Instagram
Body positivity and body acceptance is a stand out theme throughout both of your novels. Why is this something you think is so important to explore in YA?
I think it's important to explore in YA because, at least for me, being a teenager was the time that I was the most stressed about this stuff because I felt the most isolated and the most different. As an adult, I've really found my people and don't stress about it at all, but that sense of being the odd one out feels really pronounced when you're a young person.
Do you have any recommendations for fans of Melt My Heart who are looking for more YA books that follow plus sized characters with a body positive message?
Dumplin' by Julie Murphy is an all-time classic and she is an angel, so definitely that!
What do you hope the future for seeing diverse bodies in the YA (and the media in general) will look like?
I just want all fat authors to tell their own stories! I want there to be a diversity of voices, opinions, experiences. I don't want to be writing the definitive books about body image, I want to be in a deep sea of books about body image!
What's your favourite thing about writing books with a body positive message?
People messaging me and saying 'I wish I had this when I was younger' is always the most wonderful thing to hear.
View this post on Instagram
Sadly, fatphobia is still alive and thriving in our society. Is there anything you think we in the book community, as readers, authors and reviewers, can do to help tackle this within the literary world?
Honestly, I think editors need to be more vigilant at weeding out writing that treats fatphobia as morally neutral. I read it all the time. Authors should be ashamed of it but editors are meant to be a line of defence and they so often let it slip through.
Other than books, is there any other body positive media (e.g. movies, tv shows, podcasts etc.) you think readers of Melt My Heart would enjoy?
The TV series Shrill is probably my favourite of this genre!
Are you currently working on any future projects and if so, can you tell us anything about it?
I've written my first adult novel and another YA but I'm working on them with my agent Rachel at the moment so alas I have nothing tangible to report!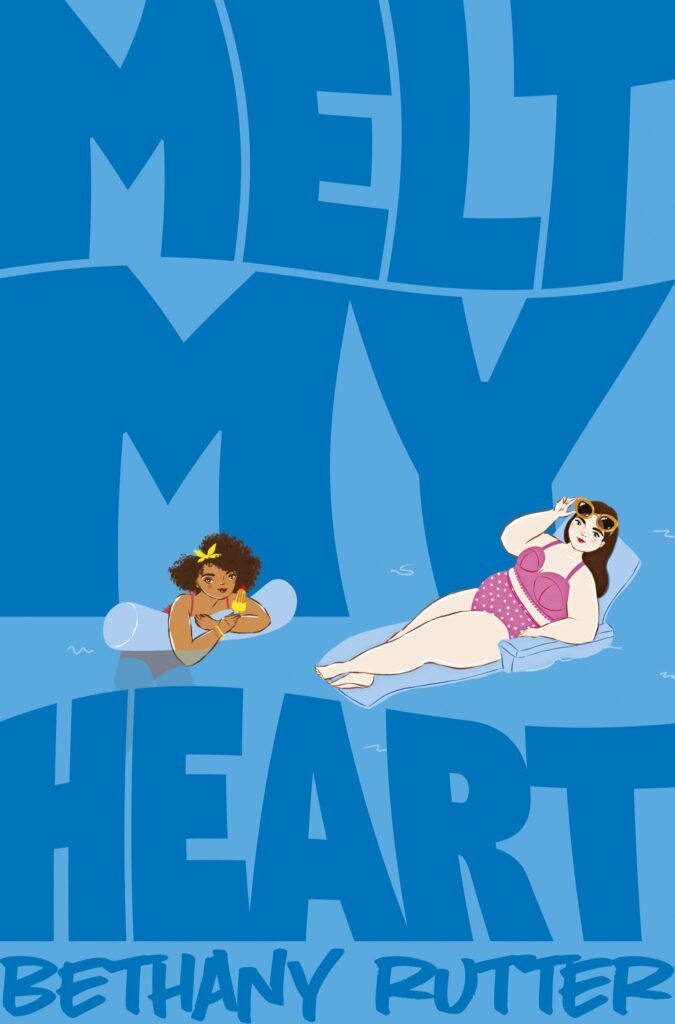 Melt My Heart by Bethany Rutter is published by Macmillan Children's Books on 23rd July in paperback, RRP £7.99. You can follow Bethany on Twitter @bethanyrutter and Instagram @bethany_rutter