Asha Ashanti Bromfield on her powerful new YA novel, Songs of Irie
"I decided to be my own hero – and it's helped me create characters with so much more nuance, heart and real guttural strength."
Following two teens as they navigate relationships, politics and survival amidst the Jamaican civil unrest of the 1970s, Asha Ashanti Bromfield's new coming-of-age novel, Songs of Irie, is a powerful and superbly written piece of historical fiction that will stay with you long after turning the final page. To celebrate its release, we had the pleasure of talking to Asha all about this stunning novel.
---
Hi Asha! I'm honoured to have the chance to talk to you today to celebrate the release of your stunning new YA novel, Songs of Irie. For readers who may just be hearing about it, how would you best describe the book?
I would describe Songs of Irie as a clashing of two worlds – Uptown and Downtown. It's about two girls – Irie and Jilly, who are growing up on opposite sides of the tracks in 1976 Jamaica during the midst of a civil and political war. They meet at school because the government allows Irie to attend a fancy private school on scholarship. That's where she meets Jilly – a political heiress who lives in the hills of Jamaica, who has a promising future set up abroad after graduation. Irie has dreams of being a reggae star, and she works at her father's controversial record shop known for playing rebel sound. Our story begins on the last day of school the summer of a heated election, and Irie and Jilly are forced to reckon with their futures – or in Irie's case, lack thereof. There's a war in the streets and Irie faces that reality every day, but Jilly has the luxury to be ignorant to it all. And when tragedy strikes, it tests their friendship. When Irie needs Jilly most, we see what they're both willing to sacrifice. At it's core, it's a story about privilege, classism, colonialism and colourism in the midst of a revolution.
For those who haven't had a chance to read the book, alongside your authors note discussing the personal elements of Songs of Irie, can you share with us a little about the inspiration behind the story?
I'm first-generation Jamaican, so I'm always inspired by the stories around me. My family is my biggest inspiration. I feel so lucky in that sense – and I'm always asking them questions. My Dad started teaching me about this critical time in Jamaican history, and it blew my mind what was happening in the 70's. I wanted to know more – so I spent years researching. I grew up listening to reggae, and I was fascinated by the inception and how it truly was a fight for freedom from oppression. I was inspired by what it took for those revolution artists to raise their voice against the violence during such a heated time. I wanted to honour their contribution – the beautiful art they created – because Reggae music has shaped the world. And in Jamaica at the time, it was considered rebellion. But when those artists were writing, they were singing for peace. And they were brave.
The way you portrayed Jamaica within Songs of Irie was almost cinematic in its vivid descriptions. Do you think your work as an actor helped you capture the visual aspect of settings and scenes within your writing?
Absolutely. I think being an actress will always inform my work. The emotionality really lives inside of me, and writing is just another way to express it for me. I write the movies I want to watch. I write the way I want to see a movie play out in front of me. I also write the roles I want to play. It's so much more fun that way – not waiting on anyone else to create it for you or validate your existence. I decided to be my own hero – and it's helped me create characters with so much more nuance, heart and real guttural strength.
View this post on Instagram
With that in mind; what inspired you to go into writing after having acted since your teens?
I wanted to express the fullness of my artistry. I wasn't getting the material I thought reflected me or any of the black girls I knew. There was so much more to our stories – so much more humanity and heart then what I saw reflected. It seemed like our stories were always half told, or an afterthought. I wanted to contribute to a more nuanced representation of our humanity. Our hopes, dreams, fears. We're not a monolith. We are a vital fabric of the human experience.
Amongst other topics, Songs of Irie expertly explores topics such as colourism, sexuality and the impacts of colonialism on Jamaica. Why was it important for you to discuss this within your writing?
I think the impacts of colonialism are real and we see it everywhere. I've dealt with my fair share with colourism in the industry and I just knew that if I was going to tell an honest story, I had to address it in my work. Colourism exists. It's at the core of so much pain and injustice – and I hope I can shine a light on that with my stories. I think Irie was my way of expressing what it feels like to fight against that injustice with your whole heart. And I just pray that at the end of the day, my stories can help people feel less alone.
There are multiple incredibly emotional scenes within Songs of Irie, some of which I imagine must have been quite tough to write? Were there any moments within the book you found particularly challenging?
A lot of it was challenging. It was the hardest book to write. But I knew if I could tackle these heavy topics, someone out there might read this book and feel seen. Or they might walk away with a deeper understanding, or more compassion for the stories of black women. I just want woman to see more honest stories about themselves in general. I want them to know how important they are. Our stories matter. Our voices deserve to be heard.
Jumping off that, did you have any scenes or characters you especially enjoyed writing?
Funny enough, I really like the last scene Irie and Jilly have together. Not to give too much away, but a lot is revealed. A lot of unspoken truths – and I think it's such an important scene. It's the writing on the walls that neither of them wanted to admit – that these very major themes – colourism, privilege, war – are imploding their friendship.
Finally, do you currently have any projects in the works, whether it be acting or writing and if so, if there anything you can share with us?
I just adapted my first book, Hurricane Summer. It's such a magical story and I have such an incredible and passionate team working to bring it to life. I'm really excited to begin that journey.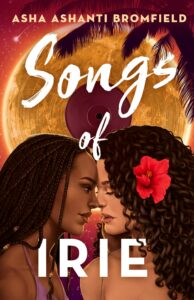 Get your copy of Songs of Irie by Asha Ashanti Bromfield here.