This post was written by Amelia Diane Coombs, author of All Along With You.
From the earliest drafts, All Alone With You has had music at its heart. Eloise, the main character, is more mathematic than creative, but when she's forced to volunteer at LifeCare, an agency that helps socialize the elderly, she finds herself spending her afternoons with Marianne Landis, the reclusive lead singer of the Laundromats, a famous band from the 1970s and 1980s. As someone who loves music but can't carry a tune or play an instrument to save their life, I really enjoyed writing about music, fame, and inter-band conflicts in All Alone With You. I even wrote snippets of song lyrics for the Laundromats to include with the chapter headers. Even though I definitely do not have a future in song writing, the lyrics helped the Laundromats feel as real as possible.
While none of the Laundromats' songs are real, All Alone With You has an extensive playlist (over sixty songs!) that I listened to while I drafted and revised. In the first chapter, Eloise listens to her "Senior Year is a Dumpster Fire" playlist, so for fun, I made the playlist and included the track list in the finished book. In recreating "Senior Year is a Dumpster Fire" I pulled songs from my writing drafting and revising playlist, as well as selecting some older songs to represent Marianne's era of music. Below, I've included the track list and a link to the Spotify playlist, both of which include a handful of bonus songs that didn't make the "official" playlist in the book. Enjoy!
---
Eloise Deane's "Senior Year is a Dumpster Fire" Track List:
1. Reinvent by Phoebe Green
2. Running Up That Hill by Kate Bush
3. Lonely Girls by TV Girl
4. More Than This by Roxy Music
5. Witchcraft by Graveyard Club
6. Love Will Tear Us Apart by Joy Division
7. Another Play by Bark Bark Disco, JOON
8. And She Was by Talking Heads
9. Standing in the Back at Your Show by Wild Ones
10. Mad World by Tears For Fears
11. Empty Streets by Diamond Thug
12. Happy Loner by Marina
13. Dreams by Fleetwood Mac
View this post on Instagram
Bonus Tracks:
14. Halloween by Graveyard Club
15. How Did You Know by Austra
16. Too Good by Haley Blais
17. Dancing on My Own by Jake McMullen
18. Miss Misanthrope by Jealous of the Birds
19. Pink Lemonade by YVA
20. Hurt Nobody by Oh Pep!
Listen to Eloise's 'Senior Year is a Dumpster Fire' playlist here: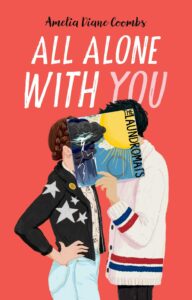 Get your copy of All Alone With You by Amelia Diane Coombs here.