Alex Segura talks Star Wars and his new YA novel, Poe Dameron: Free Fall
"I think Poe represents us; the average human in many ways."
Poe Dameron, we all love him (and if you say you don't, I simply won't believe you). Charming and heroic, since his first appearance in Star Wars: The Force Awakens, Poe has always been a somewhat man of mystery. Whilst Poe is still and will always be as charming and heroic as ever, the veil of mystery around him has lifted slightly thanks to Poe Dameron: Free Fall, the fantastic new YA novel and Poe Dameron origin story from Alex Segura.
Excited to hear more about exactly what goes into writing a Star Wars novel, we sat down with Alex to chat all about Poe Dameron: Free Fall and what it's like to create a backstory for an already established character.
---
For readers just finding out about your epic upcoming novel Poe Dameron: Free Fall, could you tell us a little about its premise?
Poe Dameron: Free Fall is the Poe Dameron origin story we've all wanted – showing us a teenage Poe looking to explore the greater galaxy, while still grappling with the massive legacy his parents have left for him. It tells the story of the boy who grew up to be the man we meet in The Force Awakens, and the thrill ride he experienced to become that person. I liken it to a crime novel in space, exploring the dark corners of the Star Wars universe through the eyes of one of its greatest heroes.
What was it like writing from the perspective of Poe, an already established and beloved character?
It was a blast! Of the sequel trilogy, Poe is by far my favorite character – he's conflicted, stubborn, defiant, and not averse to risks, but he's also supremely loyal, sharp, and heroic. I love writing complicated characters that can be unpredictable, and having Poe as the centerpiece for the story really opened things up creatively.
What was your favourite part about getting to write the story of a young Poe?
The best part, for me, and the biggest honour, was being able to add to not only the Star Wars mythos, but Poe's story – by creating characters and worlds that helped fill out his backstory and line up all the different glimpses we've gotten of Poe through the movies, novels, and comics.
View this post on Instagram
I assume you must have been a Star Wars fan prior to writing Poe Dameron: Free Fall, but did the process of writing make you fall more in love with the franchise, or did it do the opposite?
It definitely made me love Star Wars even more. In researching for this book (which, look, if reading and watching Star Wars is research, then sign me up!), I really appreciated the layered, deep universe-building that's been going on for decades, by so many great writers and minds. It's mind-boggling to dive into on a deeper level, and it works so well. I'd say it made me a fan all over again, which is hard to do.
Can you tell us a little about how you got involved with writing a YA Star Wars novel?
Michael Siglain, who's the head of publishing at Lucasfilm reached out to me. We actually knew each other from our mutual time working at DC Comics years ago. He'd read my crime novels set in Miami, and he asked if I'd ever considered writing something for Star Wars. My answer was obviously "yes!" After that, we got into the nuts and bolts of it and when he mentioned Poe, I knew there was no way I couldn't do this.
If you could write a YA novel from the perspective of another Star Wars character, who would you choose and why?
Oh, I'd love to write something from a young Obi-Wan's perspective. I think It'd be really interesting to see him become the great man we've come to know and love.
There's no denying, Poe has been a fan favourite ever since we first met him in Star Wars: The Force Awakens. What do you think it is about his character that people are so drawn to?
I think Poe represents us; the average human in many ways. He's scrappy, talented, and not afraid to make tough decisions. He's a hero's hero, he's made mistakes, he does what he think is right, and I think fans respect him for that. He's also a charming scoundrel, which never hurts.
Finally, because I have to ask: which Star Wars movie is your all-time favourite?
My heart will always belong to Empire Strikes Back!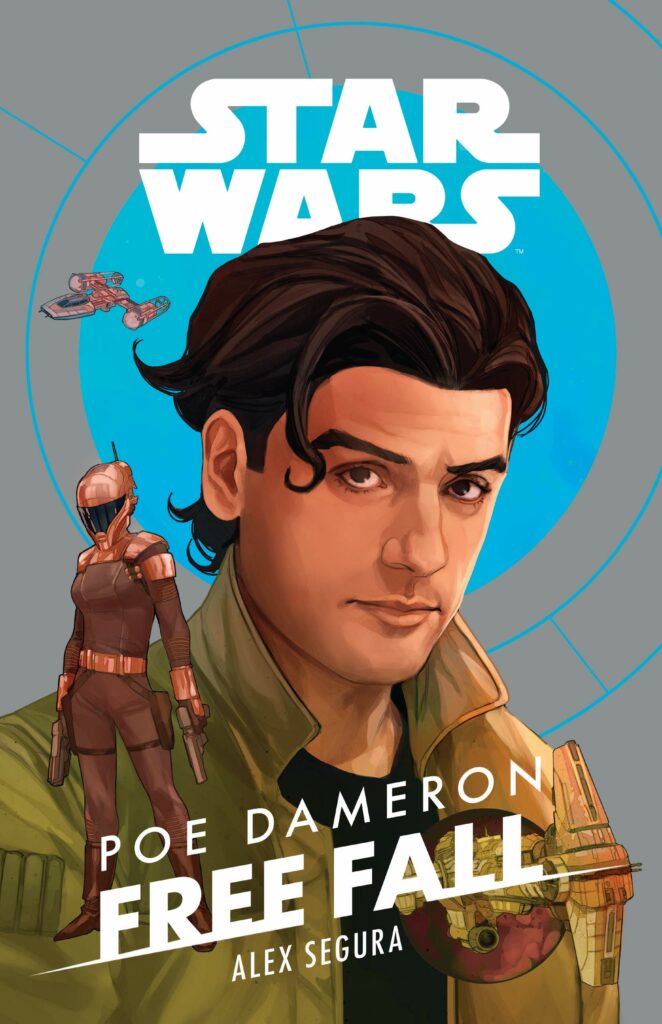 Get your copy of Poe Dameron: Free Fall by Alex Segura in the UK & US.