With its adorable queer romance, honest mental health representation, heartwarming friendship group and lovable cast of characters, there's no question as to why we've all spent the past few years head over heels for Alice Oseman's gorgeous Heartstopper graphic novel series. It's soft, gentle, romantic, funny, adorable, relatable and filled with so much heart.
With the fifth and final book in this series hitting shelves at some point in 2023 and only eight episodes in its Netflix series adaptation, it's likely we're all going to want some more Heartstopper vibes in our reads at some point soon. Thankfully, there are countless incredible LGBTQIA+ YA books out there that are filled with just as much heart and we've collected over twenty of them just for you.
---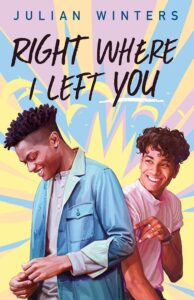 Right Where I Left You by Julian Winters
School's out, senior year is over, and Isaac Martin is ready to kick off summer. His last before heading off to college in the fall where he won't have his best friend, Diego. Where—despite his social anxiety—he'll be left to make friends on his own. Knowing his time with Diego is limited, Isaac enacts a foolproof plan: snatch up a pair of badges for the epic comic convention, Legends Con, and attend his first ever Teen Pride. Just him and Diego. The way it should be. But when an unexpected run-in with Davi—Isaac's old crush—distracts him the day tickets go on sale, suddenly he's two badges short of a perfect summer. Even worse, now he's left making it up to Diego by hanging with him and his gamer buddies. Decidedly NOT part of the original plan. It's not all bad, though. Some of Diego's friends turn out to be pretty cool, and when things with Davi start heating up, Isaac is almost able to forget about his Legends Con blunder. Almost. Because then Diego finds out what really happened that day with Davi, and their friendship lands on thin ice. Isaac assumes he's upset about missing the convention, but could Diego have other reasons for avoiding Isaac?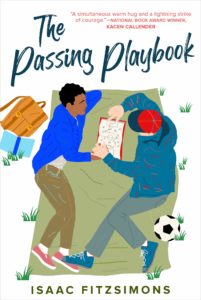 The Passing Playbook by Isaac Fitzsimons
Fifteen-year-old Spencer Harris is a proud nerd, an awesome big brother and a Messi-in-training. He's also transgender. After transitioning at his old school leads to a year of bullying, Spencer gets a fresh start at Oakley, the most liberal private school in Ohio.
At Oakley, Spencer seems to have it all: more accepting classmates, a decent shot at a starting position on the boy's soccer team, great new friends, and maybe even something more than friendship with one of his teammates. The problem is, no one at Oakley knows Spencer is trans—he's passing.
So when a discriminatory law forces Spencer's coach to bench him after he discovers the 'F' on Spencer's birth certificate, Spencer has to make a choice: cheer his team on from the sidelines or publicly fight for his right to play, even if it means coming out to everyone—including the guy he's falling for.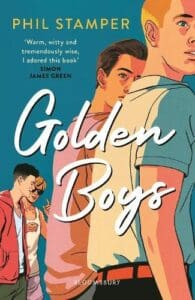 Golden Boys by Phil Stamper
Gabriel, Reese, Sal, and Heath are best friends, bonded in their small rural town by their queerness, their good grades, and their big dreams. They are about to embark on the summer before senior year of high school, where each is going on a new, big adventure. Reese is attending a design school in Paris. Gabriel is going to Boston to volunteer with a environmental nonprofit. Sal is interning on Capitol Hill for a U.S. Senator. And Heath is stuck going to Daytona Beach to help out at his aunt's beachfront arcade.
What will this summer of new experiences and world-expanding travel mean for each of them—and for their friendship?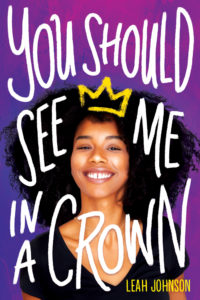 You Should See Me in a Crown by Leah Johnson
Liz Lighty has always believed she's too black, too poor, too awkward to shine in her small, rich, prom-obsessed midwestern town. But it's okay — Liz has a plan that will get her out of Campbell, Indiana, forever: attend the uber-elite Pennington College, play in their world-famous orchestra, and become a doctor.
But when the financial aid she was counting on unexpectedly falls through, Liz's plans come crashing down . . . until she's reminded of her school's scholarship for prom king and queen. There's nothing Liz wants to do less than endure a gauntlet of social media trolls, catty competitors, and humiliating public events, but despite her devastating fear of the spotlight she's willing to do whatever it takes to get to Pennington.
The only thing that makes it halfway bearable is the new girl in school, Mack. She's smart, funny, and just as much of an outsider as Liz. But Mack is also in the running for queen. Will falling for the competition keep Liz from her dreams . . . or make them come true?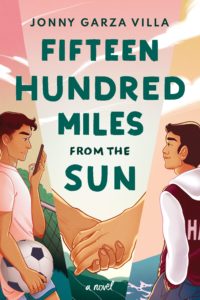 Fifteen Hundred Miles From the Sun by Jonny Garza Villa
Julián Luna has a plan for his life: Graduate. Get into UCLA. And have the chance to move away from Corpus Christi, Texas, and the suffocating expectations of others that have forced Jules into an inauthentic life.
Then in one reckless moment, with one impulsive tweet, his plans for a low-key nine months are thrown—literally—out the closet. The downside: the whole world knows, and Jules has to prepare for rejection. The upside: Jules now has the opportunity to be his real self.
Then Mat, a cute, empathetic Twitter crush from Los Angeles, slides into Jules's DMs. Jules can tell him anything. Mat makes the world seem conquerable. But when Jules's fears about coming out come true, the person he needs most is fifteen hundred miles away. Jules has to face them alone.
Jules accidentally propelled himself into the life he's always dreamed of. And now that he's in control of it, what he does next is up to him.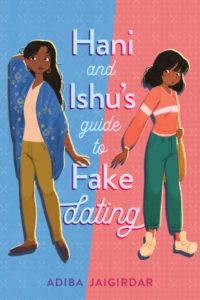 Hani and Ishu's Guide to Fake Dating by Adiba Jaigirdar
Everyone likes Humaira "Hani" Khan—she's easy going and one of the most popular girls at school. But when she comes out to her friends as bisexual, they invalidate her identity, saying she can't be bi if she's only dated guys. Panicked, Hani blurts out that she's in a relationship…with a girl her friends absolutely hate—Ishita "Ishu" Dey. Ishu is the complete opposite of Hani. She's an academic overachiever who hopes that becoming head girl will set her on the right track for college. But Ishita agrees to help Hani, if Hani will help her become more popular so that she stands a chance of being elected head girl.
Despite their mutually beneficial pact, they start developing real feelings for each other. But relationships are complicated, and some people will do anything to stop two Bengali girls from achieving happily ever after.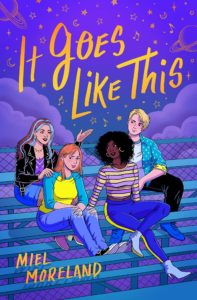 It Goes Like This by Miel Moreland
Eva, Celeste, Gina, and Steph used to think their friendship was unbreakable. After all, they've been though a lot together, including the astronomical rise of Moonlight Overthrow, the world-famous queer pop band they formed in middle school, never expecting to headline anything bigger than the county fair.
But after a sudden falling out leads to the dissolution of the teens' band, their friendship, and Eva and Celeste's starry-eyed romance, nothing is the same. Gina and Celeste step further into the spotlight, Steph disappears completely, and Eva, heartbroken, takes refuge as a songwriter and secret online fangirl…of her own band. That is, until a storm devastates their hometown, bringing the four ex-best-friends back together. As they prepare for one last show, they'll discover whether growing up always means growing apart.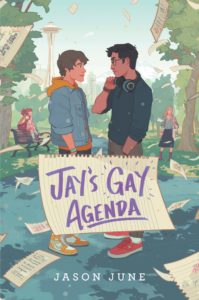 Jay's Gay Agenda by Jason June
There's one thing Jay Collier knows for sure—he's a statistical anomaly as the only out gay kid in his small rural Washington town. While all this friends can't stop talking about their heterosexual hookups and relationships, Jay can only dream of his own firsts, compiling a romance to-do list of all the things he hopes to one day experience—his Gay Agenda.
Then, against all odds, Jay's family moves to Seattle and he starts his senior year at a new high school with a thriving LGBTQIA+ community. For the first time ever, Jay feels like he's found where he truly belongs, where he can flirt with Very Sexy Boys and search for love. But as Jay begins crossing items off his list, he'll soon be torn between his heart and his hormones, his old friends and his new ones…because after all, life and love don't always go according to plan.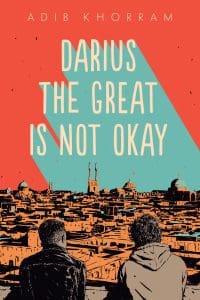 Darius the Great is Not Okay by Adib Khorram
Darius Kellner speaks better Klingon than Farsi, and he knows more about Hobbit social cues than Persian ones. He's about to take his first-ever trip to Iran, and it's pretty overwhelming—especially when he's also dealing with clinical depression, a disapproving dad, and a chronically anemic social life. In Iran, he gets to know his ailing but still formidable grandfather, his loving grandmother, and the rest of his mom's family for the first time. And he meets Sohrab, the boy next door who changes everything.
Sohrab makes sure people speak English so Darius can understand what's going on. He gets Darius an Iranian National Football Team jersey that makes him feel like a True Persian for the first time. And he understands that sometimes, best friends don't have to talk. Darius has never had a true friend before, but now he's spending his days with Sohrab playing soccer, eating rosewater ice cream, and sitting together for hours in their special place, a rooftop overlooking the Yazdi skyline.
Sohrab calls him Darioush—the original Persian version of his name—and Darius has never felt more like himself than he does now that he's Darioush to Sohrab. When it's time to go home to America, he'll have to find a way to be Darioush on his own.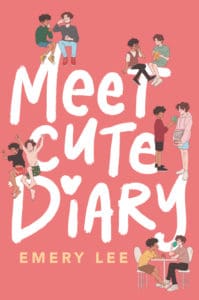 Meet Cute Diary by Emery Lee
Noah Ramirez thinks he's an expert on romance. He has to be for his popular blog, the Meet Cute Diary, a collection of trans happily ever afters. There's just one problem—all the stories are fake. What started as the fantasies of a trans boy afraid to step out of the closet has grown into a beacon of hope for trans readers across the globe.
When a troll exposes the blog as fiction, Noah's world unravels. The only way to save the Diary is to convince everyone that the stories are true, but he doesn't have any proof. Then Drew walks into Noah's life, and the pieces fall into place: Drew is willing to fake-date Noah to save the Diary. But when Noah's feelings grow beyond their staged romance, he realizes that dating in real life isn't quite the same as finding love on the page.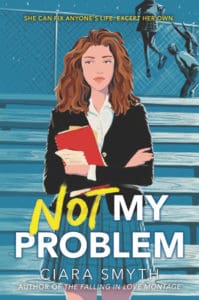 Not My Problem by Ciara Smyth
Aideen has plenty of problems she can't fix. Her best (and only) friend is pulling away. Her mother's drinking problem is a constant concern. She's even running out of outlandish diseases to fake so she can skip PE.
But when Aideen stumbles on her nemesis, overachiever Meabh Kowalski, in the midst of a full-blown meltdown, she sees a problem that—unlike her own disaster of a life—seems refreshingly easy to solve. Meabh is desperate to escape her crushing pile of extracurriculars. Aideen volunteers to help. By pushing Meabh down the stairs.
Problem? Solved. Meabh's sprained ankle is the perfect excuse to ditch her overwhelming schedule. But when another student learns about their little scheme and brings Aideen another "client" who needs her "help," it kicks off a semester of traded favors, ill-advised hijinks, and an unexpected chance at love. Fixing other people's problems won't fix her own, but it might be the push she needs to start.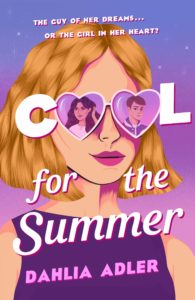 Cool for the Summer by Dalia Adler
Lara's had eyes for exactly one person throughout her three years of high school: Chase Harding. He's tall, strong, sweet, a football star, and frankly, stupid hot. Oh, and he's talking to her now. On purpose and everything. Maybe…flirting, even? No, wait, he's definitely flirting, which is pretty much the sum of everything Lara's wanted out of life.
Except she's haunted by a memory. A memory of a confusing, romantic, strangely perfect summer spent with a girl named Jasmine. A memory that becomes a confusing, disorienting present when Jasmine herself walks through the front doors of the school to see Lara and Chase chatting it up in front of the lockers.
Lara has everything she ever wanted: a tight-knit group of friends, a job that borders on cool, and Chase, the boy of her literal dreams. But if she's finally got the guy, why can't she stop thinking about the girl?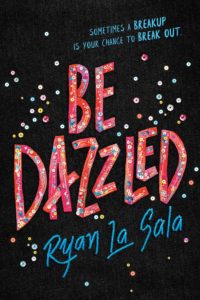 Be Dazzled by Ryan La Sala
Raffy has a passion for bedazzling. Not just bedazzling, but sewing, stitching, draping, pattern making—for creation. He's always chosen his art over everything—and everyone—else and is determined to make his mark at this year's biggest cosplay competition. If he can wow there, it could lead to sponsorship, then art school, and finally earning real respect for his work. There's only one small problem… Raffy's ex-boyfriend, Luca, is his main competition.
Raffy tried to make it work with Luca. They almost made the perfect team last year after serendipitously meeting in the rhinestone aisle at the local craft store—or at least Raffy thought they did. But Luca's insecurities and Raffy's insistence on crafting perfection caused their relationship to crash and burn. Now, Raffy is after the perfect comeback, one that Luca can't ruin.
But when Raffy is forced to partner with Luca on his most ambitious build yet, he'll have to juggle unresolved feelings for the boy who broke his heart, and his own intense self-doubt, to get everything he's ever wanted: choosing his art, his way.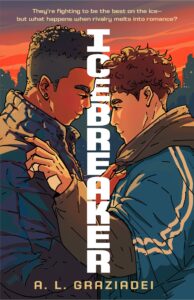 Icebreaker by A.L. Graziadei
Seventeen-year-old Mickey James III is a college freshman, a brother to five sisters, and a hockey legacy. With a father and a grandfather who have gone down in NHL history, Mickey is almost guaranteed the league's top draft spot.
The only person standing in his way is Jaysen Caulfield, a contender for the #1 spot and Mickey's infuriating (and infuriatingly attractive) teammate. When rivalry turns to something more, Mickey will have to decide what he really wants, and what he's willing to risk for it.
This is a story about falling in love, finding your team (on and off the ice), and choosing your own path.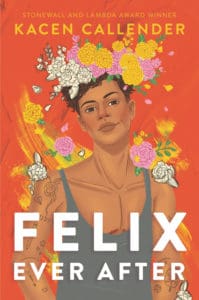 Felix Ever After by Kacen Callender
Felix Love has never been in love—and, yes, he's painfully aware of the irony. He desperately wants to know what it's like and why it seems so easy for everyone but him to find someone. What's worse is that, even though he is proud of his identity, Felix also secretly fears that he's one marginalization too many—Black, queer, and transgender—to ever get his own happily-ever-after.
When an anonymous student begins sending him transphobic messages—after publicly posting Felix's deadname alongside images of him before he transitioned—Felix comes up with a plan for revenge. What he didn't count on: his catfish scenario landing him in a quasi–love triangle….
But as he navigates his complicated feelings, Felix begins a journey of questioning and self-discovery that helps redefine his most important relationship: how he feels about himself.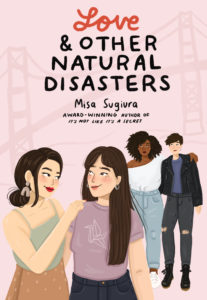 Love & Other Natural Disasters by Misa Sugiura

When Nozomi Nagai pictured the ideal summer romance, a fake one wasn't what she had in mind.
That was before she met the perfect girl. Willow is gorgeous, glamorous, and…heartbroken? And when she enlists Nozomi to pose as her new girlfriend to make her ex jealous, Nozomi is a willing volunteer.
Because Nozomi has a master plan of her own: one to show Willow she's better than a stand-in, and turn their fauxmance into something real. But as the lies pile up, it's not long before Nozomi's schemes take a turn toward disaster…and maybe a chance at love she didn't plan for.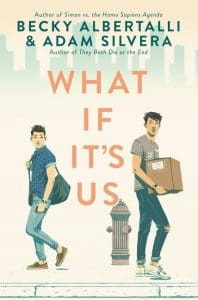 What If It's Us by Becky Albertalli and Adam Silvera
Arthur is only in New York for the summer, but if Broadway has taught him anything, it's that the universe can deliver a showstopping romance when you least expect it.
Ben thinks the universe needs to mind its business. If the universe had his back, he wouldn't be on his way to the post office carrying a box of his ex-boyfriend's things.
But when Arthur and Ben meet-cute at the post office, what exactly does the universe have in store for them?
Maybe nothing. After all, they get separated.
Maybe everything. After all, they get reunited.
But what if they can't quite nail a first date . . . or a second first date . . . or a third?
What if Arthur tries too hard to make it work . . . and Ben doesn't try hard enough?
What if life really isn't like a Broadway play?
But what if it is?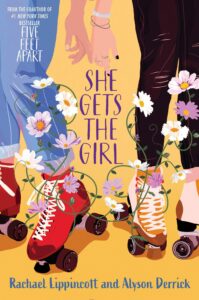 She Get's the Girl by Rachael Lippincott and Alyson Derrick
Alex Blackwood is a little bit headstrong, with a dash of chaos and a whole lot of flirt. She knows how to get the girl. Keeping her on the other hand…not so much. Molly Parker has everything in her life totally in control, except for her complete awkwardness with just about anyone besides her mom. She knows she's in love with the impossibly cool Cora Myers. She just…hasn't actually talked to her yet.
Alex and Molly don't belong on the same planet, let alone the same college campus. But when Alex, fresh off a bad (but hopefully not permanent) breakup, discovers Molly's hidden crush as their paths cross the night before classes start, they realize they might have a common interest after all. Because maybe if Alex volunteers to help Molly learn how to get her dream girl to fall for her, she can prove to her ex that she's not a selfish flirt. That she's ready for an actual commitment. And while Alex is the last person Molly would ever think she could trust, she can't deny Alex knows what she's doing with girls, unlike her.
As the two embark on their five-step plans to get their girls to fall for them, though, they both begin to wonder if maybe they're the ones falling…for each other.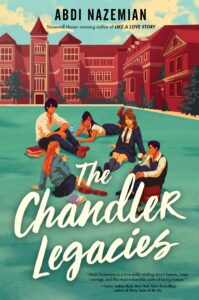 The Chandler Legacies by Abdi Nazemian
Beth Kramer is a "townie" who returns to her sophomore year after having endured a year of judgment from her roommate, Sarah.
But Sarah Brunson knows there's more to that story.
Amanda Priya "Spence" Spencer is the privileged daughter of NYC elites, who is reeling from the realization that her family name shielded her from the same fate as Sarah.
Ramin Golafshar arrives at Chandler as a transfer student to escape the dangers of being gay in Iran, only to suffer brutal hazing under the guise of tradition in the boys' dorms.
And Freddy Bello is the senior who's no longer sure of his future but has fallen hard for Spence and knows he has to stand up to his friends after what happened to Ramin.
At Chandler, the elite boarding school, these five teens are brought together in the Circle, a coveted writing group where life-changing friendships are born—and secrets are revealed. Their professor tells them to write their truths. But is the truth enough to change the long-standing culture of abuse at Chandler? And can their friendship survive the fallout?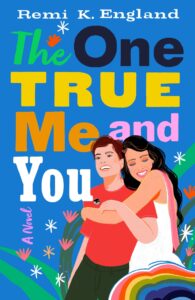 The One True You and Me by Remi K. England
Up and coming fanfic author Kaylee Beaumont is internally screaming at the chance to finally meet her fandom friends in real life and spend a weekend at GreatCon. She also has a side quest for the weekend:
Try out they/them pronouns to see how it feels
Wear more masculine-presenting cosplay
Kiss a girl for the first time
It's… a lot, and Kay mostly wants to lie face down on the hotel floor. Especially when her hometown bully, Miss North Carolina, shows up in the very same hotel. But there's this con-sponsored publishing contest, and the chance to meet her fandom idols… and then, there's Teagan.
Pageant queen Teagan Miller (Miss Virginia) has her eye on the much-needed prize: the $25,000 scholarship awarded to the winner of the Miss Cosmic Teen USA pageant. She also has secrets:
She loves the dresses but hates the tiaras
She's a giant nerd for everything GreatCon
She's gay af
If Teagan can just keep herself wrapped up tight for one more weekend, she can claim the scholarship and go off to college out and proud. If she's caught, she could lose everything she's worked for. If her rival, Miss North Carolina, has anything to do with it, that's exactly how it'll go down.
When Teagan and Kay bump into one another the first night, sparks fly. Their connection is intense—as is their shared enemy. If they're spotted, the safe space of the con will be shattered, and all their secrets will follow them home. The risks are great… but could the reward of embracing their true selves be worth it?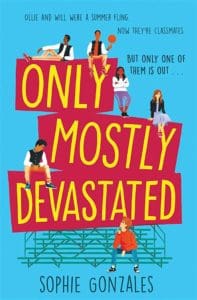 Only Mostly Devastated by Sophie Gonzalez
Will Tavares is the dream summer fling ― he's fun, affectionate, kind ― but just when Ollie thinks he's found his Happily Ever After, summer vacation ends and Will stops texting Ollie back. Now Ollie is one prince short of his fairy tale ending, and to complicate the fairy tale further, a family emergency sees Ollie uprooted and enrolled at a new school across the country. Which he minds a little less when he realizes it's the same school Will goes to… except Ollie finds that the sweet, comfortably queer guy he knew from summer isn't the same one attending Collinswood High. This Will is a class clown, closeted ― and, to be honest, a bit of a jerk.
Ollie has no intention of pining after a guy who clearly isn't ready for a relationship, especially since this new, bro-y jock version of Will seems to go from hot to cold every other week. But then Will starts "coincidentally" popping up in every area of Ollie's life, from music class to the lunch table, and Ollie finds his resolve weakening.
The last time he gave Will his heart, Will handed it back to him trampled and battered. Ollie would have to be an idiot to trust him with it again.
Right? Right.