20+ must read YA book releases for May 2022
Your May TBR is about to get a lot bigger...
From K-pop and country stars to mermaids and the apocalypse, there's truly the perfect read for everyone within these fabulous May 2022 YA releases.
---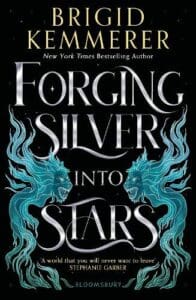 Forging Silver into Stars by Brigid Kemmerer (3rd May)
Magic has been banished in the land of Syhl Shallow for as long as best friends Jax and Callyn can remember. They once loved the stories of the powerful magesmiths and mythical scravers who could conjure fire or control ice, but now they've learned that magic only leads to danger: magic is what killed Callyn's parents, leaving her alone to raise her younger sister. Magic never helped Jax, whose leg was crushed in an accident that his father has been punishing him for ever since. Magic won't save either of them when the tax collector comes calling, threatening to take their homes if they can't pay what they owe.
Meanwhile, Jax and Callyn are astonished to learn magic has returned to Syhl Shallow — in the form of a magesmith who's now married to their queen. Now, the people of Syhl Shallow are expected to allow dangerous magic in their midst, and no one is happy about it.
When a stranger rides into town offering Jax and Callyn silver in exchange for holding secret messages for an anti-magic faction, the choice is obvious — even if it means they may be aiding in a plot to destroy their new king. It's a risk they're both willing to take. That is, until another visitor arrives: handsome Lord Tycho, the King's Courier, the man who's been tasked with discovering who's conspiring against the throne.
Suddenly, Jax and Callyn find themselves embroiled in a world of shifting alliances, dangerous flirtations, and ancient magic . . . where even the deepest loyalties will be tested.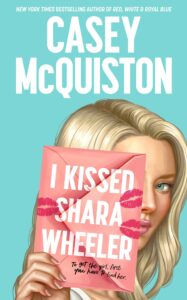 I Kissed Shara Wheeler by Casey McQuiston (3rd May)
Chloe Green is so close to winning. After her moms moved her from SoCal to Alabama for high school, she's spent the past four years dodging gossipy classmates and a puritanical administration at Willowgrove Christian Academy. The thing that's kept her going: winning valedictorian. Her only rival: prom queen Shara Wheeler, the principal's perfect progeny.
But a month before graduation, Shara kisses Chloe and vanishes.
On a furious hunt for answers, Chloe discovers she's not the only one Shara kissed. There's also Smith, Shara's longtime quarterback sweetheart, and Rory, Shara's bad boy neighbor with a crush. The three have nothing in common except Shara and the annoyingly cryptic notes she left behind, but together they must untangle Shara's trail of clues and find her. It'll be worth it, if Chloe can drag Shara back before graduation to beat her fair-and-square.
Thrown into an unlikely alliance, chasing a ghost through parties, break-ins, puzzles, and secrets revealed on monogrammed stationery, Chloe starts to suspect there might be more to this small town than she thought. And maybe—probably not, but maybe—more to Shara, too.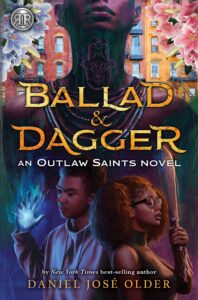 Ballad & Dagger by Daniel José Older (3rd May)
Almost sixteen years ago, Mateo Matisse's island homeland disappeared into the sea. Weary and hopeless, the survivors of San Madrigal's sinking escaped to New York.
While the rest of his tight-knit Brooklyn diaspora community dreams of someday finding a way back home, Mateo–now a high school junior and piano prodigy living with his two aunts (one who's alive, the other not so much)–is focused on one thing: getting the attention of locally-grown musical legend Gerval. Mateo finally gets his chance on the night of the Grand Fete, an annual party celebrating the blended culture of pirates, Cuban Santeros, and Sephardic Jews that created San Madrigal all those centuries ago.
But the evil that sank their island has finally caught up with them, and on the night of the celebration, Mateo's life is forever changed when he witnesses a brutal murder by a person he thought he knew.
Suddenly Mateo is thrust into an ancient battle that spans years and oceans. Deadly secrets are unraveled and Mateo awakens a power within himself–a power that not only links him to the killer but could also hold the key to unlocking the dark mystery behind his lost homeland.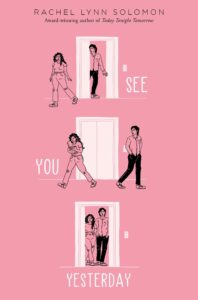 See You Yesterday by Rachel Lynn Solomon (3rd May)
Barrett Bloom is hoping college will be a fresh start after a messy high school experience. But when school begins on September 21st, everything goes wrong. She's humiliated by the know-it-all in her physics class, she botches her interview for the college paper, and at a party that night, she accidentally sets a frat on fire. She panics and flees, and when she realizes her roommate locked her out of their dorm, she falls asleep in the common room.
The next morning, Barrett's perplexed to find herself back in her dorm room bed, no longer smelling of ashes and crushed dreams. It's September 21st. Again. And after a confrontation with Miles, the guy from Physics 101, she learns she's not alone—he's been trapped for months.
When her attempts to fix her timeline fail, she agrees to work with Miles to find a way out. Soon they're exploring the mysterious underbelly of the university and going on wild, romantic adventures. As they start falling for each other, they face the universe's biggest unanswered question yet: what happens to their relationship if they finally make it to tomorrow?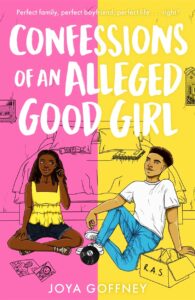 Confessions of an Alleged Good Girl by Joya Goffney (3rd May)
Monique is a preacher's daughter who detests the impossible rules of her religion. Everyone expects her to wait until marriage, so she has no one to turn to when she discovers that she physically can't have sex.
After two years of trying and failing, her boyfriend breaks up with her. To win him back, Monique teams up with straight-laced church girl Sasha–who is surprisingly knowledgeable about Monique's condition–as well as Reggie, the misunderstood bad boy who always makes a ruckus at church, and together they embark upon a top-secret search for the cure.
While on their quest, Monique discovers the value of a true friend and the wonders of a love that accepts her for who she is. Despite everyone's opinions about her virtue, she learns to live for herself, inspiring us all to reclaim our bodies and unapologetically love ourselves.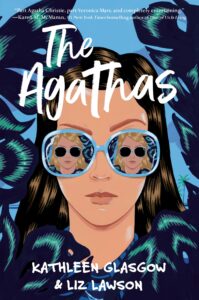 The Agathas by Kathleen Glasgow & Liz Lawson (3rd May)
Last summer, Alice Ogilve's basketball-star boyfriend Steve dumped her. Then she disappeared for five days. Where she went and what happened to her is the biggest mystery in Castle Cove, because she's not talking. Or it was, at least. But now, another one of Steve's girlfriends has vanished: Brooke Donovan, Alice's ex–best friend. And it doesn't look like Brooke will be coming back. . .
Enter Iris Adams, Alice's tutor. Iris has her own reasons for wanting to disappear, though unlike Alice, she doesn't have the money or the means. That could be changed by the hefty reward Brooke's grandmother is offering to anyone who can share information about her granddaughter's whereabouts. The police are convinced Steve is the culprit, but Alice isn't so sure, and with Iris on her side, she just might be able to prove her theory.
In order to get the reward and prove Steve's innocence, they need to figure out who killed Brooke Donovan. And luckily Alice has exactly what they need—the complete works of Agatha Christie. If there's anyone that can teach the girls how to solve a mystery it's the master herself. But the town of Castle Cove holds many secrets, and Alice and Iris have no idea how much danger they're about to walk into.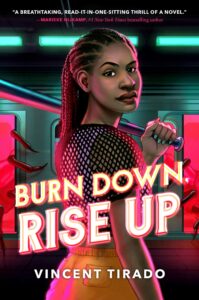 Burn Down, Rise Up by Vincent Tirado (3rd May)
For over a year, the Bronx has been plagued by sudden disappearances that no one can explain. Sixteen-year-old Raquel does her best to ignore it. After all, the police only look for the white kids. But when her crush Charlize's cousin goes missing, Raquel starts to pay attention—especially when her own mom comes down with a mysterious illness that seems linked to the disappearances.
Raquel and Charlize team up to investigate, but they soon discover that everything is tied to a terrifying urban legend called the Echo Game. The game is rumored to trap people in a sinister world underneath the city, and the rules are based on a particularly dark chapter in New York's past. And if the friends want to save their home and everyone they love, they will have to play the game and destroy the evil at its heart—or die trying.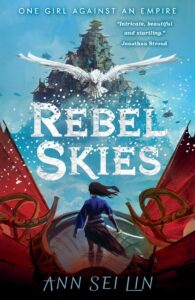 Rebel Skies by Ann Sei Lin (5th May)
Kurara has never known any other life than being a servant on board the Midori, but when her party trick of making paper come to life turns out to be a power treasured across the empire, she joins a skyship and its motley crew to become a Crafter. Taught by the gruff but wise Himura, Kurara learns to hunt shikigami – wild paper spirits who are sought after by the Princess.
But are these creatures just powerful slaves for the Crafters and the empire, or are they beings with their own souls – and yet another thing to be subjugated by the powerful Emperor and his Princess?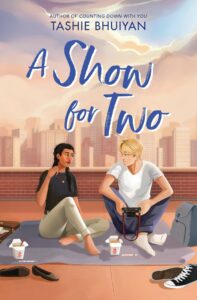 A Show for Two by Tashie Bhuiyan (10th May)
Mina Rahman has a plan for her future:
• Finally win the Golden Ivy student film competition
• Get into her dream school across the country
• Leave New York City behind once and for all
Mina's ticket to winning the competition falls into her lap when indie film star—and known heartbreaker—Emmitt Ramos enrolls in her high school under a secret identity to research his next role. When Mina sets out to persuade Emmitt to join her cause, he offers her a deal instead: he'll be in her short film…if she acts as a tour guide to help him with a photography contest.
As Mina ventures across the five boroughs with Emmitt by her side, the city she grew up in starts to look different and more like home than it ever has before. With the competition deadline looming, Mina's dreams—which once seemed impenetrable—begin to crumble, and she's forced to ask herself: Is winning worth losing everything?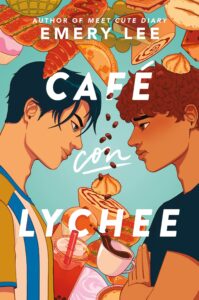 Café Con Lychee by Emery Lee (10th May)
Theo Mori wants to escape. Leaving Vermont for college means getting away from working at his parents' Asian American café and dealing with their archrivals' hopeless son Gabi who's lost the soccer team more games than Theo can count.
Gabi Moreno is miserably stuck in the closet. Forced to play soccer to hide his love for dance and iced out by Theo, the only openly gay guy at school, Gabi's only reprieve is his parents' Puerto Rican bakery and his plans to take over after graduation.
But the town's new fusion café changes everything. Between the Mori's struggling shop and the Moreno's plan to sell their bakery in the face of the competition, both boys find their dreams in jeopardy. Then Theo has an idea—sell photo-worthy food covertly at school to offset their losses. When he sprains his wrist and Gabi gets roped in to help, they realize they need to work together to save their parents' shops but will the new feelings rising between them be enough to send their future plans up in smoke?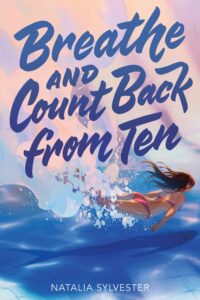 Breathe and Count Back from Ten by Natalia Sylvester (10th May)
Verónica, a Peruvian‑American teen, must deal with both her painful hip dysplasia and her overprotective immigrant parents, all while chasing her dream to become a professional mermaid in this gorgeously written, authentic novel about secrets and finding your wings (or tail).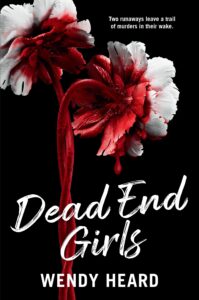 Dead End Girls by Wendy Heard (10th May)
In one week, Maude will be dead. At least, that's what she wants everyone to think. After years of research, Maude has decided to fake her own death. She's figured out the how, the when, the where, and who will help her unsuspectingly.
The why is complex: revenge, partly. Her terrible parents deserve this. But there's also l'appel du vide, the call of the void, that beckons her toward a new life where she will be tied to no one, free and adrift. Then Frankie, a step-cousin she barely knows, figures out what she's plotting, and the plan seems like it's ruined. Except Frankie doesn't want to rat her out. Frankie wants in. The girls vault into the unknown, risking everything for a new and limitless life. But there are some things you can never run away from. What if the poison is not in the soil, but in the roots?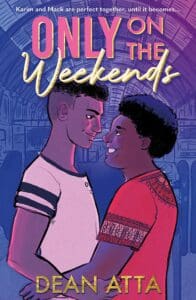 Only on the Weekends by Dean Atta (12th May)
Fifteen-year-old Mack is a hopeless romantic–likely a hazard of growing up on film sets thanks to his father's job. Mack has had a crush on Karim for as long as he can remember and he can't believe it when gorgeous, popular Karim seems into him too.
But when Mack's father takes on a new directing project in Scotland, Mack has to move away, and soon discovers how painful long-distance relationships can be. It's awful to be so far away from Karim, and it's made worse by the fact that Karim can be so hard to read.
Then Mack meets actor Finlay on set, and the world turns upside down again. Fin seems fearless–and his confidence could just be infectious.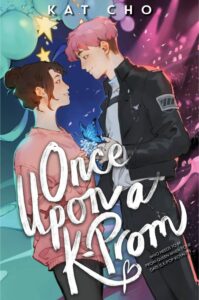 Once Upon a K-Prom by Kat Cho (17th May)
Elena Soo has always felt overshadowed. Whether by her more successful older sisters, her more popular twin brother, or her more outgoing best friend, everyone except Elena seems to know exactly who they are and what they want. But she is certain about one thing – she has no interest in going to prom. While the rest of the school is giddy over corsages and dresses, Elena would rather spend her time working to save the local community center, the one place that's always made her feel like she belonged.
So when international K-pop superstar Robbie Choi shows up at her house to ask her to prom, Elena is more confused than ever. Because the one person who always accepted Elena as she is? Her childhood best friend, Robbie Choi. And the one thing she maybe, possibly, secretly wants more than anything? For the two of them to keep the promise they made each other as kids: to go to prom together. But that was seven years ago, and with this new K-pop persona, pink hair, and stylish clothes, Robbie is nothing like the sweet, goofy boy she remembers. The boy she shared all her secrets with. The boy she used to love.
Besides, prom with a guy who comes with hordes of screaming fans, online haters, and relentless paparazzi is the last thing Elena wants – even if she can't stop thinking about Robbie's smile…right?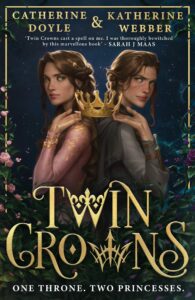 Twin Crowns by Katherine Webber & Catherine Doyle (17th May)
Wren Greenrock has always known that one day she would steal her sister's place in the palace. Trained from birth to return to the place of her parents' murder and usurp the only survivor, she will do anything to rise to power and protect the community of witches she loves. Or she would, if only a certain palace guard wasn't quite so distractingly attractive, and if her reckless magic didn't have a habit of causing trouble…
Princess Rose Valhart knows that with power comes responsibility. Marriage into a brutal kingdom awaits, and she will not let a small matter like waking up in the middle of the desert in the company of an extremely impertinent (and handsome) kidnapper get in the way of her royal duty. But life outside the palace walls is wilder and more beautiful than she ever imagined, and the witches she has long feared might turn out to be the family she never knew she was missing.
Two sisters separated at birth and raised into entirely different worlds are about to get to know each other's lives a whole lot better. But as coronation day looms closer and they each strive to claim their birthright, the sinister Kingsbreath, Willem Rathborne, becomes increasingly determined that neither will succeed. Who will ultimately rise to power and wear the crown?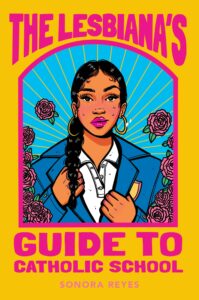 The Lesbiana's Guide to Catholic School by Sonora Reyes (17th May)
Seventeen-year-old Yamilet Flores prefers drawing attention for her killer eyeliner, not for being the new kid at a mostly white, very rich, Catholic school. But at least here no one knows she's gay, and Yami intends to keep it that way. After being outed by her crush and ex-best friend, she could use the fresh start.
At Slayton Catholic, Yami has new priorities: make her mom proud, keep her brother out of trouble, and most importantly, don't fall in love. Granted, she's never been great at any of those things, but that's a problem for Future Yami.
The thing is, it's hard to fake being straight when Bo, the only openly queer girl at school, is so annoyingly perfect. And smart. And talented. And cute. Either way, Yami isn't going to make the same mistake again. If word got back to her mom, she could face a lot worse than rejection. So she'll have to start asking, WWSGD: What would a straight girl do?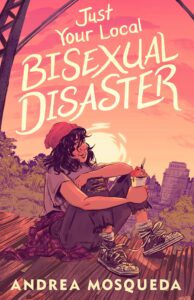 Just Your Local Bisexual Disaster by Andrea Mosqueda (24th May)
Growing up in Texas's Rio Grande Valley, Maggie Gonzalez has always been a little messy, but she's okay with that. After all, she has a great family, a goofy group of friends, a rocky romantic history, and dreams of being a music photographer. Tasked with picking an escort for her little sister's quinceañera, Maggie has to face the truth: that her feelings about her friends—and her future—aren't as simple as she'd once believed.
As Maggie's search for the perfect escort continues, she's forced to confront new (and old) feelings for three of her friends: Amanda, her best friend and first-ever crush; Matthew, her ex-boyfriend twice-over who refuses to stop flirting with her, and Dani, the new girl who has romantic baggage of her own. On top of this romantic disaster, she can't stop thinking about the uncertainty of her own plans for the future and what that means for the people she loves.
As the weeks wind down and the boundaries between friendship and love become hazy, Maggie finds herself more and more confused with each photo. When her tried-and-true medium causes more chaos than calm, Maggie needs to figure out how to avoid certain disaster—or be brave enough to dive right into it.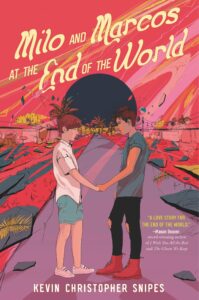 Milo and Marcos at the End of the World by Kevin Christopher Snipes (24th May)
When Marcos moves to town, Milo is forced to acknowledge the feelings he's kept hidden, especially from his religious parents. But as natural disasters begin to befall them the closer they become, Milo and Marcos soon begin to wonder if the universe itself is plotting against them in this young adult debut by playwright and creator of The Two Princes podcast, Kevin Christopher Snipes.
Milo Connolly has managed to survive the first three years of high school without any major disasters, so by his calculations, he's well past due for some sort of Epic Teenage Catastrophe. Even so, all he wants his senior year is to keep his head down and fly under the radar like the quiet, well-behaved, churchgoing boy that everyone thinks he is.
Everything is going exactly as planned until the dreamy and charismatic Marcos Price saunters back into his life after a three-year absence and turns his world upside-down. Suddenly Milo is forced to confront the long-buried feelings that he's kept hidden not only from himself but also from his deeply religious parents and community.
To make matters worse, strange things have been happening around his sleepy Florida town ever since Marcos's return—sinkholes, blackouts, hailstorms. Mother Nature seems out of control, and the closer Milo and Marcos get, the more disasters seem to befall them.
In fact, as more and more bizarre occurrences pile up, Milo and Marcos find themselves faced with the unthinkable: Is there a larger, unseen force at play, trying to keep them apart? And if so, is their love worth risking the end of the world?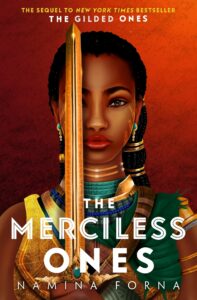 The Merciless Ones by Namina Forna (31st May)
It's been six months since Deka has freed the goddesses and discovered who she really is. There are now wars waging across the kingdom. Otereans now think jatu are traitors to the nation. Deka is called a monster.
But the real battle has only just begun and Deka must lead the charge. Deka is tasked with freeing the rest of the goddesses. Only as she begins to free them, she begins to see a strange symbol everywhere in places of worship and worn on armor. There's something unnatural about that symbol; just looking at it makes Deka lose her senses. Even worse, it seems to repel her powers. She can't command or communicate with the new deathshrieks. In fact, she can't even understand them when they speak.
Deka knows freeing the goddesses is just the beginning. She can tell whatever dark force out is powerful and there is something sinister out there threatening the kingdom connected to that symbol–something merciless–that her army will need to stop before humanity crumbles. But Deka's powers are only getting stronger…and her strongest weapon could be herself.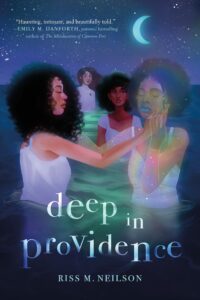 Deep in Providence by Riss M. Neilson (31st May)
For best friends Miliani, Inez, Natalie and Jasmine, Providence, Rhode Island has a magic of its own. From the bodegas and late-night food trucks on Broad Street to The Hill that watches over the city, every corner of Providence glows with memories of them practicing spells, mixing up potions and doing séances with the help of the magic Miliani's Filipino grandfather taught her.
But when Jasmine is killed by a drunk driver, the world they have always known is left haunted by grief…and Jasmine's lingering spirit. Determined to bring her back, the surviving friends band together, testing the limits of their magic and everything they know about life, death, and each other.
And as their plan to resurrect Jasmine grows darker and more demanding than they imagined, their separate lives begin to splinter the bonds they depend on, revealing buried secrets that threaten the people they care about most. Miliani, Inez and Natalie will have to rely on more than just their mystical abilities to find the light.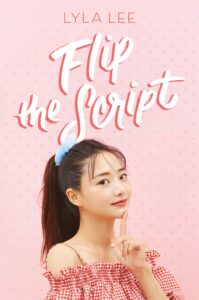 Flip the Script by Lyla Lee (31st May)
As an avid watcher of K-dramas, Hana knows all the tropes to avoid when she finally lands a starring role in a buzzy new drama. And she can totally handle her fake co-star boyfriend who might be falling in love with her. After all, she promised the producers a contract romance, and that's all they're going to get from her.
But when showrunners bring on a new girl to challenge Hana's role as main love interest—and worse, it's someone Hana knows all too well—can Hana fight for her position on the show while falling for her on-screen rival in real life?
-K-drama lovers will fall for all the fan-favorite tropes that make for a hit show.
-Romance is everywhere in this swoony, joy-filled novel, with fake dating, a secret relationship, and a classic love triangle!
-Visit South Korea as Hana takes readers through popular spots and hidden gems.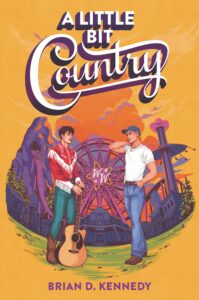 A Little Bit Country by Brian D. Kennedy (31st May)
Emmett Maguire wants to be country music's biggest gay superstar – a far reach when you're seventeen and living in Illinois. But for now, he's happy to do the next best thing: Stay with his aunt in Jackson Hollow, Tennessee, for the summer and perform at the amusement park owned by his idol, country legend Wanda Jean Stubbs.
Luke Barnes hates country music. As the grandson of Verna Rose, the disgraced singer who had a famous falling out with Wanda Jean, Luke knows how much pain country music has brought his family. But when his mom's medical bills start piling up, he takes a job at the last place he wants: a restaurant at Wanda World.
Neither boy is looking for romance, but sparks fly when they meet – and soon they're inseparable. Until a long-lost secret about Verna and Wanda comes to light, threatening to unravel everything.
Will Emmett and Luke be able get past the truths they discover…or will their relationship go down in history as just another Sad Country Love Song?
Love Radio by Ebony LaDelle (31st May)
Prince Jones is the guy with all the answers—or so it seems. After all, at seventeen, he has his own segment on Detroit's popular hip-hop show, Love Radio, where he dishes out advice to the brokenhearted.
Prince has always dreamed of becoming a DJ and falling in love. But being the main caretaker for his mother, who has multiple sclerosis, and his little brother means his dreams will stay just that and the only romances in his life are the ones he hears about from his listeners. Until he meets Dani Ford.
Dani isn't checking for anybody. She's focused on her plan: ace senior year, score a scholarship, and move to New York City to become a famous author. But her college essay keeps tripping her up and acknowledging what's blocking her means dealing with what happened at that party a few months ago. And that's one thing Dani can't do.
When the romantic DJ meets the ambitious writer, sparks fly. Prince is smitten, but Dani's not looking to get derailed. She gives Prince just three dates to convince her that he's worth falling for.
Three dates for the love expert to take his own advice, and just maybe change two lives forever.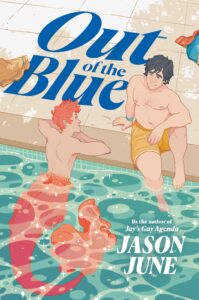 Out of the Blue by Jason June (31st May)
Crest is not excited to be on their Journey: the monthlong sojourn on land all teen merfolk must undergo. The rules are simple: Help a human within one moon cycle and return to Pacifica to become an Elder–or fail and remain stuck on land forever. Crest is eager to get their Journey over and done with: after all, humans are disgusting. They've pollluted the planet so much that there's a floating island of trash that's literally the size of a country.
In Los Angeles with a human body and a new name, Crest meets Sean, a human lifeguard whose boyfriend has recently dumped him. Crest agrees to help Sean make his ex jealous and win him back. But as the two spend more time together and Crest's pespective on humans begins to change, they'll soon be torn between two worlds. And fake dating just might lead to real feelings…